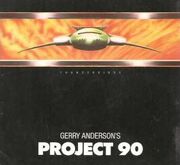 Released in 1990, the aptly titled Project 90 was a contemporary update and rework of the original Thunderbirds theme. Approved by Gerry Anderson himself, the song featured a combination of vocal clips from classic episodes, along with new lyrics performed by female singer, Venus.
A music video was created to coincide with the song, and while the footage had barely anything to do with Thunderbirds, it became the basis for Anderson's 1994 live-action drama, Space Precinct.
Project 90 came about when a pair of fans contacted Anderson while looking to finance a Thunderbirds theme record. Initially he declined any involvement, believing there already were enough remixes of the show in circulation as it was. This opinion was changed when they suggested it should be a modernisation instead of simply reworking the music to fit a faster rhythm.
Project 90 spent two weeks in the Official UK Singles Chart Top 100, entering at number 91 on June 30, 1990, and slipping to number 99 the following week.
The song's title was lifted from an episode of the Anderson-produced puppet series Joe 90.
Ad blocker interference detected!
Wikia is a free-to-use site that makes money from advertising. We have a modified experience for viewers using ad blockers

Wikia is not accessible if you've made further modifications. Remove the custom ad blocker rule(s) and the page will load as expected.