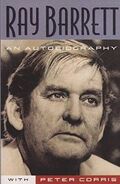 Raymond Charles "Ray" Barrett (2 May 1927 – 8 September 2009) was an Australian actor and voice actor.
Barrett was born in Brisbane, Queensland and was educated at Brisbane State High School.
Ray Barrett first appeared on radio in Brisbane. In 1957, he moved to England. Due to his "tough looks", he was given character and "tough guy" roles from an unusually young age.
He provided the voice of several characters in Gerry Anderson-produced "Supermarionation" series of the 1960s: Commander Shore and Titan in Stingray (1964–65) and later John Tracy, the Hood and various minor characters in the TV series Thunderbirds. He also voiced John Tracy and the Hood in the movie Thunderbirds Are Go, but not in Thunderbird 6.
In 2005, he received an Australian Film Institute Longford Life Achievement Award.
Characters Voiced by Ray Barrett
Edit
(Click an image to visit character page.)
External Links
Edit
Ad blocker interference detected!
Wikia is a free-to-use site that makes money from advertising. We have a modified experience for viewers using ad blockers

Wikia is not accessible if you've made further modifications. Remove the custom ad blocker rule(s) and the page will load as expected.