The Reactor Control Assistant is a character from The Mighty Atom. He worked at the Atomic powered station, located in eastern Australia, which desalinates sea water for irrigation use. The Hood accidentally destroyed the station, which nearly resulted in the evacuation of Melbourne.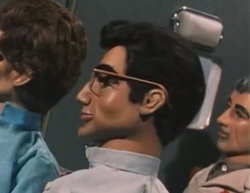 The same puppet appeared in Pit of Peril as Lieutenant Mead.
"Well, there's no chance of that, is there?"
"What's going on?!"
"It's racing away!"