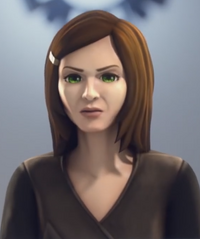 The receptionist at the London Archive is a character from Space Race. She insisted that requests made to retrieve an article from the archive be made at the beginning of each month, even in life or death situations. She later attempted to stop Lady Penelope and Parker retrieving the kill code for a stealth mine, but was thwarted when her boss Oliver realised who they were.
Ad blocker interference detected!
Wikia is a free-to-use site that makes money from advertising. We have a modified experience for viewers using ad blockers

Wikia is not accessible if you've made further modifications. Remove the custom ad blocker rule(s) and the page will load as expected.