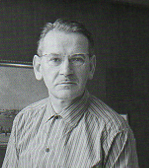 Reg Hill (May 16th, 1914 - October 1999) was the associate producer on Thunderbirds season 1 and producer on season 2.
In Filmed in Supermarionation, Hill features in archive footage in which he receives an award for his work on Thunderbirds.
Supermarionation Cross-sections is dedicated to Reg Hill along with a number of other individuals who had involvement with the numerous A.P. Films/Century 21 productions.
His first name was Reginald; Reg is simply a shortened form of that name.
External Links
Edit