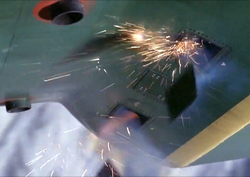 In the Thunderbirds series, various aircraft are said to be fitted with retros, i.e. jet engines providing reverse thrust whenever the situation requires.
Retros in Use
Edit
Seen in The Cham-Cham, Thunderbird 2 fires its retros to halt the Cable Car that has been cut loose by Olsen
Main article: Cable Car
As of 2016, not even a single aircraft has ever been built with an engine of that sort.