Ring of Fire is the seventh Thunderbirds novel released, and third by Armada Books. Published in October 1966, the paperback novel was written by John Theydon, and once again features the International Rescue family of heroes partaking in a new adventure.
The heat is on for Thunderbird 1, as Scott Tracy faces both rescuing workers at a nuclear power station, and an erupting volcano which could lead to even greater disaster. To make matters worse, The Hood has returned with a scheme to wipe Tracy Island off the planet.
International Rescue Equipment Used
Edit
Not to be confused with the Thunderbirds Are Go! episode of similar name, of which there is no relation.
Ring Of Fire is the first book in the series not to use a cover illustration.
The wraparound image itself is particularly notable for being part of a series of photographs which have gained almost infamous status over the decades. Originally shot to promote the TV Century 21 story Solar Danger, this particular photo went unused, before finding a home as this book's cover. Subsequently, the photo has been reused numerous times for publicity, posters, gum cards, and even on the back cover of VHS tapes, despite having barely anything to do with the television series.

This has led to something of an urban myth that an episode featured International Rescue facing alien invaders was filmed, when in fact, it was simply an unused image for a comic cover.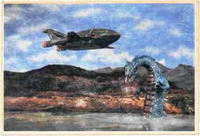 Ad blocker interference detected!
Wikia is a free-to-use site that makes money from advertising. We have a modified experience for viewers using ad blockers

Wikia is not accessible if you've made further modifications. Remove the custom ad blocker rule(s) and the page will load as expected.