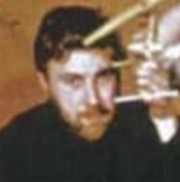 Roger Woodburn
(born August 9th, 1936) is a commercials director, special effects technician, puppeteer, and sculptor.
Biography
Edit
Shortly after the inception of A.P. Films, Woodburn joined the company, initially as a puppeteer. After several years of working for APF, he left in 1961 while Supercar was in production.
Some time following his departure, Woodburn made TV commercials in Soho, one of which involved a number of Thunderbirds puppets. For this, he liased with Christine Glanville and Mary Turner.
Woodburn later gave invaluable help with research for 21st Century Visions. Additionally he was interviewed for Filmed in Supermarionation.
External Links
Edit
Ad blocker interference detected!
Wikia is a free-to-use site that makes money from advertising. We have a modified experience for viewers using ad blockers

Wikia is not accessible if you've made further modifications. Remove the custom ad blocker rule(s) and the page will load as expected.