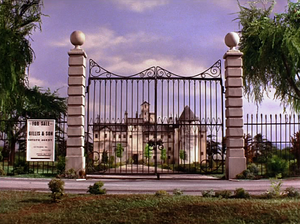 Royston Castle is the home of Deborah, The Duchess of Royston, and was seen in the episode The Duchess Assignment.
Unfortunely (due to gambling debts), she had to put it up for sale. Lady Penelope visited the castle, but the Duchess had already left.
The house was put on the market by Gillis & Son of 23 Pulbar Road, Royston.
Royston Castle also had the same gates as the Art Gallery seen later in the episode.
Ad blocker interference detected!
Wikia is a free-to-use site that makes money from advertising. We have a modified experience for viewers using ad blockers

Wikia is not accessible if you've made further modifications. Remove the custom ad blocker rule(s) and the page will load as expected.