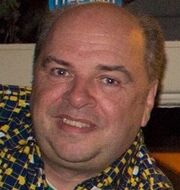 Sam Denham (born January 8th, 1960) is an author and documentary producer. A Thunderbirds fan from an early age, he has worked on a number of books relating to the series such as Derek Meddings' 21st Century Visions (under his pen name Sam Mitchell) and the Thunderbirds Haynes manual (alongside artist Graham Bleathman). More recently, he wrote episode guides for and contributed at least one interview to Thunderbirds: A Complete Guide to the Classic Series, as well as allowing Marcus Hearn to photograph and scan some of the rarest items from his collection for Thunderbirds: The Vault (which Hearn is the author of).
Denham is expected to make a documentary of the days of the Thunderbirds team that will be released around 2018 or thereafter.
He was additionally the associate producer on the 2004 Supercar documentary Full Boost Vertical - The Supercar Story, where he worked with producer Stephen La Rivière.
His official first name is Cameron; presumably that name became Cam, and later Sam.
He is known as "Denham Orbital" on Facebook.
External Links
Edit
Ad blocker interference detected!
Wikia is a free-to-use site that makes money from advertising. We have a modified experience for viewers using ad blockers

Wikia is not accessible if you've made further modifications. Remove the custom ad blocker rule(s) and the page will load as expected.