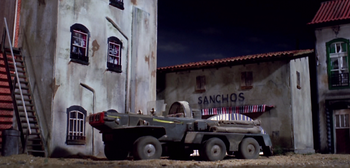 Sanchos' Restaurant is situated in the South American village of San Martino. Sanchos runs the small establishment. Other members of staff include but are likely not limited to Maria, a cook, and an unnamed barman. On one particular occasion, a guitar player entertained the patrons in the form of playing some music.
The restaurant is not without its (significant) flaws, largely owing to its apparently incompetent staff. For instance, in the kitchen area, mice routinely run over the worktops and food, plus each and every plate is invariably dirty.
When Jansen takes this team there for an evening meal, it is no wonder they all go down with food poisoning after eating Sanchos' "special".
Curiously Jansen ordered a steak and unlike the rest of the team, he showed no signs of food poisoning - however the following morning Operative Franklin was so ill he was unable to join the rest of the crew on the Crablogger. The symptoms of food poisoning hit McColl and Peterson hard, causing them to pass out while driving the machine.
The Crablogger veers off course, creating havoc through the local village, and without the intervention of International Rescue, would have caused massive damage to the San Martino Dam.
It is unknown whether Sanchos (and potentially his colleagues) is deliberately malicious with regards to the poor health and safety standards his restaurant has.
Staff and Customers
Edit
Other Appearances (Isn't That...?)
Edit
A Sanchos Special
Edit
Cooked in a pot and dumped on a plate, steaming as hot as it comes!