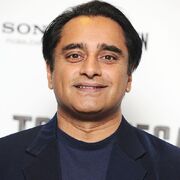 Sanjeev Bhaskar (born 31st October, 1963) is an British/Indian comedian and actor. 
He is best known for his work in the BBC Two comedy series Goodness Gracious Me and as host of The Kumars at No. 42. He also played Colonel Ahmed in the 2014 Doctor Who episode Death in Heaven.
His likeness was used for creating the puppet of Gallup Din in the Thunderbirds 1965 episode The Abominable Snowman.
He also voiced Ethan Sullivan in City Under the Sea, an episode of Thunderbirds Are Go!.
Ad blocker interference detected!
Wikia is a free-to-use site that makes money from advertising. We have a modified experience for viewers using ad blockers

Wikia is not accessible if you've made further modifications. Remove the custom ad blocker rule(s) and the page will load as expected.