Santa Number Two (Leo) is, as his name implies, one of two Santa Clauses employed by Harman's Department Store in New York City. Both "meet and greet" their many young Christmas visitors at Santa's Hideaway - an elaborate holiday venue set up for the season in Harman's toy department.
Leo appears (appropriately) in the episode Give or Take a Million; and his voice was supplied by David Graham.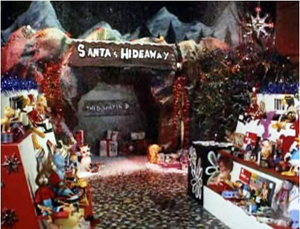 Biography
Edit
Having just finished the last shift on Christmas eve, two bank robbers with guns tie him and his partner (Santa 1) up, in the stock room, while they break into the bank next door.