"The things I do for International Rescue!"
Scott Tracy is the eldest of Jeff Tracy's five sons, and the pilot of Thunderbird 1. He is 30 years old.
Scott's signature colour on his IR uniform is light blue.
Biography
Edit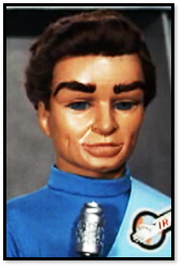 Scott was named by his parents after Mercury 7 astronaut Malcolm Scott Carpenter.
He was educated at Yale and Oxford Universities and joined the United States Air Force. After his father created the International Rescue organisation, Scott became the pilot of one of the five special IR craft, Thunderbird 1.
As the pilot of TB1, Scott is always the first to arrive at the Danger Zone where he assesses the situation and quickly determines which special rescue equipment would be required for the task, such as rescuing men trapped in a flooded mine. (Martian Invasion).
Personality & Traits
Edit
Scott is fast-talking, quick-witted, and quick-thinking. He has brains, brawn, and boldness. With all these qualities he has the confidence to make instant decisions, backed by a fierce determination and unfaltering bravery. When off duty, Scott is relaxed and good-humoured and loves home cooking - notably, Grandma Tracy's apple pie (The Uninvited).
As well as piloting Thunderbird 1, Scott also co-pilots Thunderbird 3 with his younger brother Alan Tracy and sometimes changes shifts with him and his other younger brother John Tracy aboard Thunderbird 5.
In the absence of his father, Scott takes command of the main headquarters on Tracy Island.
Appearances
Edit
Main article: Scott Tracy/Appearances
Scott appears in all 32 television episodes, as well as both movies (Thunderbirds Are Go and Thunderbird 6).
He also appears (via both new and archival footage) in all three episodes of Thunderbirds 1965.
The Perils of Penelope
Edit
Piloting Thunderbird 1 (in civvies, not his usual IR uniform), Scott returns home from leave to Tracy Island - and learns from Jeff that a major rescue operation involving Alan, Gordon, Virgil and Parker, is underway...
The only rescue in which Scott doesn't directly participate!
Main article: Scott Tracy/Missions
Main article: Scott Tracy/Outfits
Scott, along with Lady Penelope, FAB 1, Parker and Brains appeared in British comedian Peter Kay's "Animated All Star Band" for BBC Children In Need 2009.
Expressions
Edit
Scott's facial features are based on those of actor Sean Connery.
"This is a job for International Rescue. Thunderbirds are Go!" - Atlantic Inferno
"I know I don't really have to say this, but a man's life is at stake." - The Impostors
"Sir, you'll pardon the intrusion, sir, but would you mind telling the boys that lunch is ready? Sir." - Cry Wolf
"Sorry I'm late, folks. I had to milk the cows before I took off." - Operation Crash-Dive
"Gee, that apple pie you brought out was good, Tin-Tin. Is there any more?" - The Uninvited