Selsden is a character from Brink Of Disaster. Together with Harry Malloy he burgled the home of Lady Penelope, and then tried to use FAB 1 as a getaway car.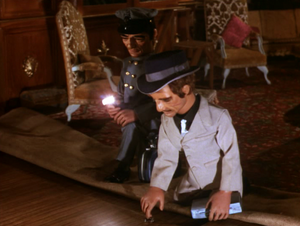 Biography
Edit
A Raid on a Manor
Edit
Selsden cracks open Lady Penelope's safe.
Main article: Harry Malloy
A Stretch in Prison
Edit
After being arrested in the grounds of Creighton-Ward Manor, Selsden and the rest of the Grafton Gang are sent to prison.
Ad blocker interference detected!
Wikia is a free-to-use site that makes money from advertising. We have a modified experience for viewers using ad blockers

Wikia is not accessible if you've made further modifications. Remove the custom ad blocker rule(s) and the page will load as expected.