"Shadow Axis" is the ninth episode of Thunderbirds 2086, and eighth produced overall. The episode first aired in Japan on June 12, 1982.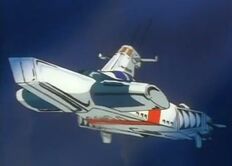 It's the first anniversary of the Thunderbird team, but there is very little to celebrate when an undersea volcano threatens a research submarine near Samoa. To make matters worse, Kallan is captured by the enigmatic Shadow Axis organisation as part of an insane plot to destroy the Federation.
(To Be Added)
IRO Equipment Used
Edit
First Appearance: Starcrusher, supreme general of the Shadow Axis organisation.
Anderson Stock Library
Edit
Whenever Starcrusher speaks, a variation of the Mysteron theme from Captain Scarlet and the Mysterons can be heard.
During Kallan James' search for the missing submarine, one can hear the Morse code-like Impressor Pen sound effect from Alias Mr. Hackenbacker.
Foreign Name
Edit
Japanese: Pulverization! Terrestrial Takeover Plan (粉砕!地上買収計画)
Ad blocker interference detected!
Wikia is a free-to-use site that makes money from advertising. We have a modified experience for viewers using ad blockers

Wikia is not accessible if you've made further modifications. Remove the custom ad blocker rule(s) and the page will load as expected.