Shane Rimmer

Date of Birth

28 May 1929

Age

88
Shane Rimmer (born May 28th, 1929) is a Canadian actor, voice actor and writer. He appeared in numerous Gerry Anderson productions. He is arguably best known for providing the voice for Scott Tracy.
After Thunderbirds, he provided uncredited voices for minor characters in the Anderson's next puppet series Captain Scarlet & The Mysterons, Joe 90,and The Secret Service.
In Dick Spanner, P.I., he voiced the lead character Dick Spanner.
He also appeared in the live-action series UFO (3 episodes), The Protectors (2 episodes), and Space: 1999 (6 episodes).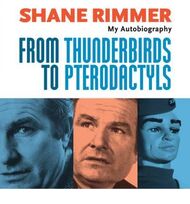 Voice of Scott Tracy
Voice of steward Lane
Gallery: Characters voiced by Shane Rimmer
Edit
External Links
Edit
Ad blocker interference detected!
Wikia is a free-to-use site that makes money from advertising. We have a modified experience for viewers using ad blockers

Wikia is not accessible if you've made further modifications. Remove the custom ad blocker rule(s) and the page will load as expected.