The Skymaster Helijet is a type of helijet; and is available to private ownership, as well as to businesses - such as World Television (World TV).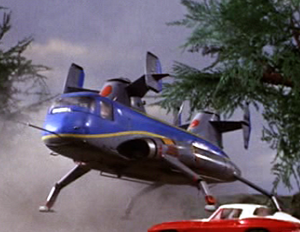 Erdman Gang's Helijet
Edit
In 30 Minutes After Noon, Dempsey and Kenyon made their escape from the Plutonium Store by car to a nearby field - where a Skymaster Helijet, piloted by the gang's leader, was waiting to pick them up.
Lady Penelope and Parker, in FAB 1, arrived just as the Helijet was taking off; whereupon Parker disabled it, using the pink Rolls Royce's grille-mounted machine gun.
World TV Helijet
Edit
Seen in The Impostors.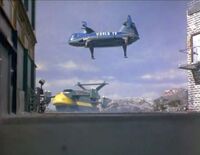 The Skymaster Helijet also appeared in three of the Andersons' subsequent television series: Captain Scarlet & The Mysterons, Joe 90, and The Secret Service; as well as on Adams and Somportex gum cards...