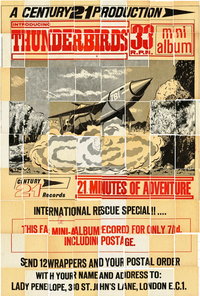 Somportex Bubblegum Cards were the first bubblegum cards in the UK to feature Thunderbirds, published in 1966. The set consisted of 72 cards with black and white photographs, a mix of studio produced photographs, and stills from the series. The backs of the cards when placed together formed a giant advert for a send away offer for a Thunderbirds mini album "Introducing Thunderbirds". The cards can be found in two sizes, the larger ones were for the UK market and sold in brown packets. The series was such a success they were produced in the millions, making them still easy to obtain today.
United States Version
Edit
The set was also released in the US by Philadelphia Chewing Gum Corporation under license from Somportex UK. the cards followed the same format but in a smaller size. They were sold in Yellow packets.
To see a full set of cards from the first series:
To see a wrapper from this series:
Series Two
Edit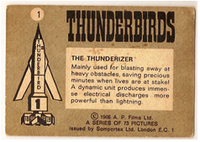 Somportex: Series 2, was a range of bubble gum cards produced by Somportex Ltd, London EC.1, copyrighted by A.P Films LTD 1966 and Printed in the Netherlands by Monty Fabrieken Leiden.
The first black and white series, was quickly followed by a second series of 73 in full colour. They were printed in Holland (late 1966) by Monty Gum, who ran a single version to help increase production, to meet the ever increasing demand. The majority of the young children who bought these cards were seeing Thunderbirds for the first time in full colour. They are still the most sought-after Thunderbirds cards today and a full set can set you back anything up to £300. The series was also released in the Netherlands by Monty Fabrieken, the cards were identical to the UK release.
To see a full set of cards from this series:
To see a wrapper from this series:
Ad blocker interference detected!
Wikia is a free-to-use site that makes money from advertising. We have a modified experience for viewers using ad blockers

Wikia is not accessible if you've made further modifications. Remove the custom ad blocker rule(s) and the page will load as expected.