The Somportex Series 2 gum cards were first issued in 1966. Whereas the first series had been in black & white, the second series was in colour.
Main article: Somportex Bubblegum Cards
For a wrapper for this set see:
Main article: Bubblegum Wrappers
1. THE THUNDERIZER
Text: "Mainly used for blasting away at heavy obstacles, saving precious minutes when lives are at stake! A dynamic unit produces immense electrical discharges more powerful than lighting".
Notes: The Thunderizer strongly resembles the Booster Mortar seen in Edge Of Impact. The "cannon" however does look different, and it has an entirely different purpose.
2. THE FIREFLY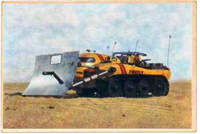 Text: "Capable of piercing solid matter, often saves lives by providing instant air-holes to trapped miners, etc. Atomic neutrons are concentrated into a single cell which when fired disintegrates solid matter".
Notes: The Firefly was seen for the first time in City Of Fire when it cleared a path for the Mole. It was not seen in any episode "providing instant air-holes for trapped miners"
3. ORNAMENTAL GARDEN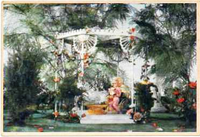 Text: "This beautiful garden arbour lies secluded in the grounds of Lady Penelope Creighton-Ward and provides a welcome retreat".
Notes: This is a scene from The Cham-Cham. Lady Penelope is sitting in this garden when Parker serves her tea.
4. UNDERWATER
Text: "Submerged in the mysterious murky depths of the Pacific Ocean, the nuclear powered submarine WN1 is being used by The Hood for spying on International Rescue".
Notes: This submarine was seen in Atlantic Inferno and was being used as a Radio-controlled Submarine as a target for The World Navy, when testing gyropedoes in the Atlantic Ocean. The Hood was not seen in any episode "spying in the Pacific Ocean".
5. LASER RAY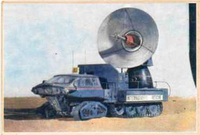 Text: "The mobile laser ray I.R.3. unit uses concentrated sun-rays to penetrate the hardest of materials. Another fantastic device carried inside pod 6 aboard Thunderbird II".
Notes: The Transmitter Truck, seen in Sun Probe, used radio waves and not "concentrated sun-rays". But it was indeed carried in Pod 6.
6. PATHFINDER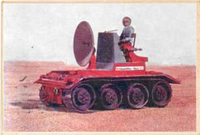 Text: "This eight-wheeled, caterpillar track-driven machine is yet another marvelous invention used by International Rescue. Its primary function is to locate objects in dense fog, sandstorms, etc, by using its infra-red sonic beam".
Notes: This in fact is the Neutralizer Tractor driven by Brains in Move And You're Dead.
7. MICROSCOPIC INSPECTION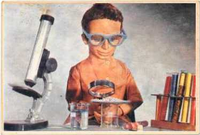 Text: "Brains the bespectacled scientific genius inventor of the incredible machines and rescue equipment! He is a typical 'egg-head', shy and rather hesitant in his speech".
8. The GLOBAL CARRIER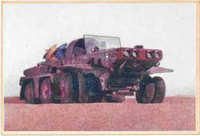 Text: "Global Carrier services and maintains International Rescue equipment on ground operations. Constantly on the alert, by Video-phone, it is vital in answering emergency calls".
Notes: The standard Global Carrier (the Cobra) is an All Terrain Vehicle. The Cobra appeared in The Uninvited and The Mighty Atom and was used by various civilians. Brains drove one in Desperate Intruder.
9. The STATELY HOME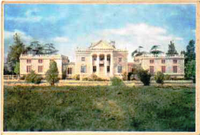 Text: "The country home of Lady Penelope is situated in picturesque countryside and is furnished in exquisite taste, befitting one whose motto is "elegance charm and deadly danger".
Notes: Another publicity shot, most on-screen footage of Creighton-Ward Manor has trees in the foreground.
10. THE ANGLER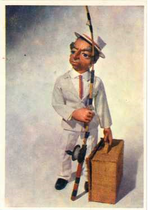 Text: "Gone fishin! Parker, who is Lady Penelope's chauffeur and man servant, is an off-beat Cockney. Although he has a prison record, he is now fully reformed".
Notes: Studio shot, used for publicity and the "Lady Penelope Magazine".
11. NEAR MISS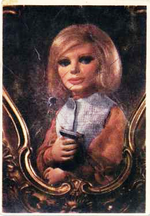 Text: "That was a near one! Lady Penelope glanced into the mirror just in time to evade the shot from the shrewd villain. The Hood. Her fingers tighten on her automatic...."
Notes: Studio shot, used on the cover of a "Lady Penelope Magazine" early 1966.
12. SECRET WEAPON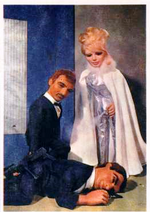 Text: "Lady Penelope the organization's London-based agent, over-comes an attack by two of the Hood's henchmen by firing her concealed sleeping gas vapor pistol".
Notes: One of a series of photographs taken in the studio, for the girls magazine "Lady Penelope".
13. GEAR
Text: "Lady Penelope possesses an exotic wardrobe and is renowned in International fashion circles for her taste and elegance in beautiful clothes. Here she is on her way to a real swinging party!"
Notes: Lady Penelope wore this outfit when she took Jeff Tracy to the art gallery in The Duchess Assignment.
14. COMPUTER PARKING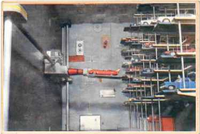 Text: "Alan's high-powered racing car being lifted into position by the auto car stacker. This automatically parks and recovers auto-mobiles by computer selection at great speed".
Notes: The Parola Sands Automobile Park was seen in Move And You're Dead. The park was operated by the car park attendant using levers to get the stacker to move up, down and sideways.
15. THUNDERBIRD IV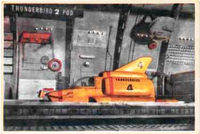 Text: "Underwater scout craft, on launching ramp inside pod transported by Thunderbird II. As Thunderbird II hovers over the sea, the pod is lowered, a ramp protrudes and the underwater vehicle emerges from it".
Notes: This still is taken from stock footage and used in several episodes, including Operation Crash-Dive, Day Of Disaster and The Man From MI.5.
16. SWEET DREAMS
Text: "Alan, probably the most romantic of the sons, pilot of Thunderbird III, sleeps comfortably in his luxurious apartment".
Notes: Another studio shot photograph.
17. RADAR SCREEN
Text: "Lady Penelope, the organization's elegant charming blonde London agent, following The Hood in her super car, FAB 1, and keeping track of her enemy on the built-in radar system".
Notes: In Trapped in the Sky, Parker chased after the Hood using eyesight only. Again this is a studio shot, but the radar was used to track Captain Paul Travers in the film Thunderbirds Are Go.
18. THE MONORAIL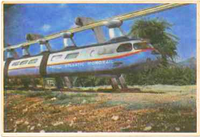 Text: "Pacific Atlantic monorail solves the problem of fast, safe and comfortable communication for earth travelers. Pressurized compartments fully air-conditioned make it very popular."
Notes: The monorail was seen in two episodes The Perils of Penelope (The Anderbad Express), and again in Brink of Disaster, were it was anything but "safe". This frame is of the Pacific Atlantic monorail.
19. THE MOBILE CRANE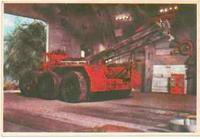 Text: "Highly efficient 'Telescopic' arm mobile crane rumbles towards the opening hatch of Pod 6. Specifications permits this atrazine machine to lift four times its own weight - 50 tons."
Notes: The Mobile Crane was in Pod 3, when it was seen in Path of Destruction.
20. DANGEROUS TASK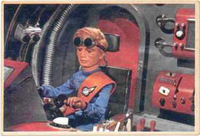 Text: "Alan Tracy feels beads of perspiration drip from his face as he wrestles with the controls. The dark goggles are protection against the blinding light of the solar explosions he has been viewing on the solarium".
Notes: Clearly the person who wrote these notes had never watched the series. This is actually Gordon Tracy, and the reason he is wearing goggles is that he has just used Thunderbird 4's laser cutter to cut through the cable of the Seascape diving bell, in Atlantic Inferno. This might have been an error, with text meant for another card, however it is unlikely as Gordon is wearing "dark goggles".
21. NITE-HAWK TX5
Text: "Thermo-nuclear bomber of World Air Forces. This massive six-engine long-range bomber is guided to its target by remote control from the ballistic missile early warning system (BMEWS)".
Notes: This aircraft was seen in The Cham-Cham and was an RTL-2 transporter plane.
22. THE MONSTER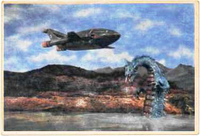 Text: "Thunderbird II on reconnaissance flight flashes a message back to International Rescue headquarters.. "This is Thunderbird II ... underwater monster sighted position 15.7° Longitude 9.6° Latitude... 16.45 World Time".
Notes: This is one of several Monster photographs produced for the TV21 magazine. Issue No:90 published in October 1966 had as its cover story, "Monster Attacks". The front page had a photograph of the same monster, attacking Thunderbird 3.
23. OIL RIG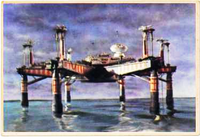 Text: "Seascape, the six-leg off-shore oil rig, exploits the discovery of an extensive reservoir of oil 7500 feet beneath the North Sea. Estimated yield 10-50 years supply (10 million barrels)".
Notes: The oil rig must have been moved by the time of the World Navy tested their new gyropedoes. As the title of the episode suggests: Atlantic Inferno.
24. DOMO-DOZER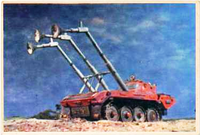 Text: "The sucker cups on the control arms produce a tremendously powerful vacuum. This combined with the hydraulic strength of the arm, enables Domo-Dozer to lift and support great weights".
Notes: The Domo, (as it is actually known as) was used in The Duchess Assignment. The photograph on the card is a studio shot.
25. INSIDE THUNDERBIRD III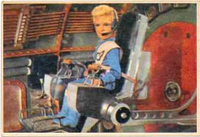 Text: "Astronaut Alan Tracy at the flight deck of Thunderbird III. From here, the very heart of the machine, all the screens instruments and controls are in direct link with H.Q".
Notes: This is actually the cockpit of Thunderbird 1, and is a still grabbed from Atlantic Inferno.
26. THE CHAUFFEUR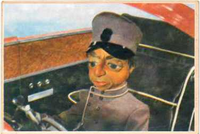 Text: "Parker, Lady Penelope's chauffeur, drives one of the world's most remarkable cars. The 'Shocking Pink' car, with the number plate FAB 1, has many un-usual accessories. A machine gun projects from the famous radiator when required.
Notes: Seen many times through-out the series on screen, this is in fact a studio taken promotional photograph.
27. THE NITE-HAWK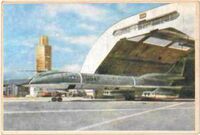 Text: "Nite-Hawk TX5 taxies from the gigantic hangar to begin another long-range mission. Although manned by a crew of six, it is completely controlled by laser accelerated spectro beams".
Notes: The aircraft seen leaving its hangar in The Cham-Cham was an RTL-2 transport plane. Another photograph of the RTL-2 can been seen on Card No. 21.
28. A LAUNCHING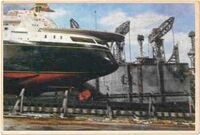 Text: "A new gigantic ocean-going thermo-nuclear oil tanker about to be launched. With a capacity of 150,000 tons, this vessel averages more that 50 knots per hour."
Note: This is the launching of Ocean Pioneer II, its cargo was liquid alsterene. Its predecessor (Ocean Pioneer I) was seen sailing into mist and exploding at he beginning of Danger At Ocean Deep.
29. THE NAUTILUS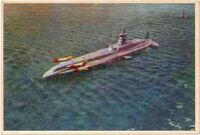 Text: "Anti-Missile missiles mounted forward on the deck on the World Navy's thermo-nuclear submarine Nautilus. Armaments include 16 Polaris Missiles, which are launched from beneath the sea.
Notes: Studio shot of the W.N.S. Reaper and its gyropedoes, which went haywire when launched in Atlantic Inferno.
30. FIREFLASH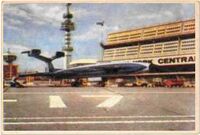 Text "Fireflash" landing at New York Airport after a maiden round the world flight. The first atomic-powered civil aircraft in commercial use.
Notes: A Fireflash aircraft seen in The Duchess Assignment, having just arrived at New York Central airport, with Deborah the Duchess of Royston on board.
31. STRATOSPHERIC SPY
Text: "This completely revolutionary experimental prototype sonic-jet carries an unmanned 'spyprobe' monojet for launching into the stratosphere to take high altitude photo reconnaissance film. Spyprobe is powered from solar batteries which are recharged by sunlight".
Notes: Lady Penelope and Jeff Tracy watch a demonstration of a WAF Wombat carrying a WAF Dart 1 Parasite aircraft in The Duchess Assignment.
32. DISASTER AT SEA
Text: "Thunderbird II and Thunderbird I complete a successful rescue operation by airlifting the trapped oilmen from the blazing oil-rig 'Seascape' before it sinks beneath the waves".
Notes: This is a still taken from Atlantic Inferno.
33. LOOK OUT
Text: "The workmen have fled in terror as the flame-spitting, fireball throwing, scale-encrusted monster rises and emerges from the depths of the earth".
Notes: The same monster (model and pose) as used in the photograph on card number 22.
34. THUNDERBIRD II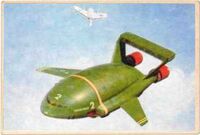 Text: "Firefighter extraordinary, cruises at 5000 MPH loaded with 25,000 lbs of priceless rescue devices. Launched by dyno-ramp. or VTO. Lands by retro-rocket thrust".
Notes: Studio shot of Thunderbird 2 taken with an unidentified plane diving downwards.
35. THE HOVERJET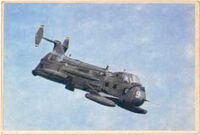 Text: "World Army Hoverjet projects hyper space video pictures playback to the War Room, world security headquarters".
Notes: This is a studio shot of a World Army helijet that was briefly seen in The Impostors.
36. MONORAIL STATION
Text: "Atomic powered overhead monorail provides transport facilities many hundreds of feet beneath the ground. This vast complex system provides inter-city communication at speeds of 500 MPH"
Notes: 500 miles per hour! Really? This aerial view of Anderbad Monorail station is a frame from The Perils of Penelope.
37. SELF DEFENCE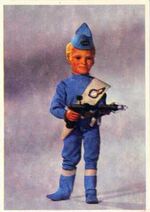 Text: "Alan has an impetuous nature and is an expert racing driver. Seen here in complete I.R uniform, he is armed with the latest deadly automatic ray gun.
Notes: Studio shot of Alan Tracy with an unrecognised "automatic ray gun".
38. CONDOR XL6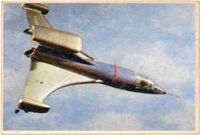 Text: "Designed by Brains, for the personal use of his chief, Jeff Tracy, the beautiful aero-dynamic lines and variable delta wing design are unique features in ram jet aircraft".
Notes: This is Jeff Tracy's JT1 Condor, seen in Atlantic Inferno.
39. TEAM-WORK
Text: "The combined resources of International Rescue organisation are deployed when Thunderbird I and Thunderbird IV unite in a dangerous sea rescue attempt".
Notes: This is a still from Atlantic Inferno, the diving bell is being lifted out of the water by Thunderbird 2 from above.
40. COMBINED OPERATION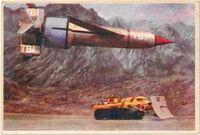 Text: "The silver-grey Thunderbird I, piloted by Scott, contacts Gordon driving Firefly by using ultra-high frequencies. Always first at the scene of rescue, its object is to report from the danger zone what equipment is required".
Notes: This Studio shot of Thunderbird 1 flying over the Firefly that would not have had "Gordon driving" in any of the episodes.
41. KEEPING COOL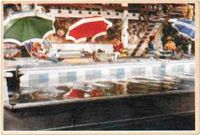 Text: "The Tracy family enjoying a well-earned rest, relax by their luxurious swimming pool. Keeping their island headquarters a secret is a vital element in the success of the organization's activities".

Notes: This is a shot of the swimming pool, roughly as it appeared in the feature film Thunderbirds Are Go.
42. The CHOPPER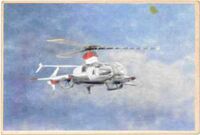 Text: "Gyro-Copter FG-719 is unusual in that it features short clipped wings, twin booms and elevated tail piece. This unique combination offsets instability caused by air turbulence in mountain ranges".
Notes: This is the helicopter the Hood makes his escape in, in the movie Thunderbirds Are Go.
43. SNOW PATROL
Text: "Gyro-Copter FG-719 especially designed for mountain terrain. Note the skis which are an important feature for mountain rescue above the snow line. Now in service with units of World Army".
Notes: Another still from the movie Thunderbirds Are Go.
44. EXECUTIVE TRANSPORT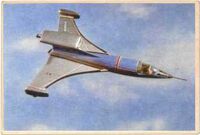 Text: "The personal plane of ex-astronaut Jeff Tracy, chief of International Rescue organisation. The rear mounted ram jet engine produces speeds in excess of mach 4".
Notes: Virtually the same shot as card number 38.
45. The HELIJET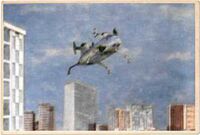 Text: "The Helijet on routine patrol over the skyline of New York. This wonderful machine is fully equipped with anti-bugging devices."
Notes: This is a Skymaster Helijet seen in two episodes. One was owned by the Erdman Gang Leader for use by him and the rest of his gang. It featured in 30 Minutes After Noon, where it ended up being destroyed by FAB 1's grille machine cannon. The second one was owned by the World TV company. It appeared in The Impostors.
46. NIGHT LIFE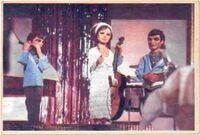 Text: "The Swinging Lady Penelope fronts a small beat group at one of London's most exclusive night clubs. With her wonderful voice, she is a smash-hit with the audience, but she is really on duty".
Notes: This is Lady Penelope, posing as Wanda Lamour, singing with the The Cass Carnaby Five. In The Cham-Cham she went undercover, and traveled to the Paradise Peaks Hotel.
47. INSIDE THUNDERBIRD V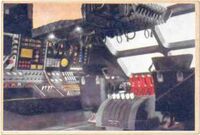 Text: "A close-up of the instrument panel aboard Thunderbird V, the ever alert space monitoring station. Brains has 'built in' the most advanced technical know-how, a secret formula to assist emergency operations".
Notes: This is a studio shot of the Martian Exploration Vehicle (MEV), from the film Thunderbirds Are Go.
48. A-HUNTING WE WILL GO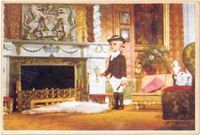 Text: "Lady Penelope Creighton-Ward (her correct title) stands besides the Adam Fire-place above which hangs her personal heraldic coat of arms".
Notes: A scene from the movie Thunderbirds Are Go.
49. ARTIST AT WORK
Text: "Lady Penelope has many hidden talents, one of which is well-known in art circles throughout the world. Besides providing a diverting relaxation it is also useful to her in the role of Secret agent".
Notes: A studio shot of Lady Penelope, she was not seen painting in any episode.
50. DEEP SEA SECURITY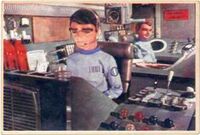 Text: "The aquanauts of World Navy are wearing anti-radiation suits to protect them from the nuclear engines of 'Nautilus'. One watches the sonarscopes, while the other listens to the sonic recorder".
Notes: W.N.S. Reaper is a nuclear submarine owned by the World Navy and is featured briefly in Atlantic Inferno when it was testing some gyropedoes by firing them at a radio-controlled submarine underwater. The is a still from the episode showing the crew inside the submarine.
51. ROAD BUILDER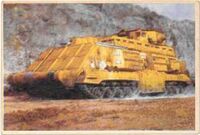 Text: "This heavy duty, multi-purpose generator is used mainly in the construction of roads in often impassable regions. It not only levels, but automatically surfaces roads".
Notes: This is a studio shot of The Australian Road Company - Road Construction Vehicle, It made a very short appearance in Atlantic Inferno.
52. SOLAR STORM
Text: "Alan operates the lever of his adjustable reclining seat of Thunderbird III. Solar storms erupt almost without warning and it is necessary for him to be strapped into his pilots seat to avoid possible injury".
Notes: This is another studio shot. The inside of Thunderbird 3 has been altered from the original one, and was first seen in Ricochet. The studio scene was also used by Palan UK, and released as a jigsaw (1967).
53. THE ALLIGATORS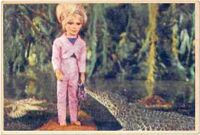 Text: "These alligators involved International Rescue in one of its most fantastic operations ever. A very powerful chemical had been accidentally spilled into the river which turned the alligators into gigantic monsters".
Notes: Probably the most accurate text from the whole set. That's exactly what happened in Attack of the Alligators!. However, this is a studio taken shot of Lady Penelope, who wasn't even in the episode.
54. THE ROBOT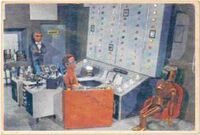 Text: "Brains, the genius responsible for the scientific apparatus, nears the completion of his most daring and fantastic experiment yet. An almost human transistorised robot man".
Notes: This is a screen shot from The Cham-Cham.
55. VOODOO
Text: "The Hood, arch-villain, contemplates another diabolical plot to try to obtain the secrets of the wonder machines of International Rescue organization. He uses strange Voodoo powers to exert influence over his half brother, Kyrano".
Notes: Another shot used many times of The Hood in his Malaysian Temple.
56. The CONFERENCE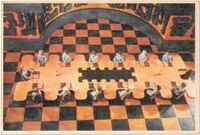 Text: "The War Room at World Government and Space Empire headquarters. Representatives of earth and its space empire meet to discuss problems once a month".
Notes: A screen shot from the film Thunderbirds Are Go of the Martian Exploration Center.
57. AT HOME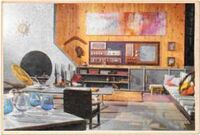 Text: "The living quarters of Jeff Tracy's island home are luxuriously furni­shed. Here the family relax and en­tertain their visitors".
Notes: This is a studio shot of Lady Penelope's Australian farm in Bonga-Bonga, seen in Atlantic Inferno.
58. A GAME OF CHANCE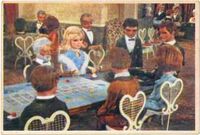 Text: "Beautiful Lady Penelope, accompanied by faithful manservant Parker, at the gaming tables. On duty, of course!"
Notes: Lady Penelope visits a French casino in The Duchess Assignment were she meets up with Deborah the Duchess of Royston
59. AT THE CONTROLS
Text: "Scott, at the controls of Thunderbird I, is the eldest son. Fast-talking and quick-thinking, he can also cope with any emergency and is skilled at organizing rescue operations".
Notes: Another studio shot of Scott in Thunderbird 1.
60. The ROCK CRUSHER
Text: "To reach trapped men quickly, rock dozer, powered by hydrogen engines which operate high speed vibrators, reduces boulders to dust".
Notes: This is a studio shot of the Excavator from Martian Invasion.
61. IN OUTER SPACE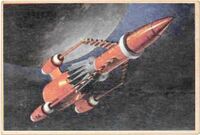 Text: "Thunderbird III, capable of flying into space if necessary, is tracked by huge radio scanners which can show not only where the craft is at any mo­ment, but can also send high­ pow­ered signals back to earth".
Notes: A studio photograph of Thunderbird 3 with a real picture of the Moon in the background.
62. NITE-HAWK TX5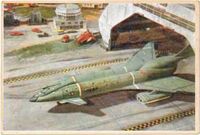 Text: "Aerial view of the world's record-holding long-range bomber, leaving its enormous hangar. Its six massive 'Saturn' engines produce enough energy to supply a large town".
Notes: This is a still from The Cham-Cham of the RTL-2 transporter plane.
63. ON TRACY ISLAND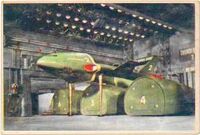 Text: "Hidden from prying eyes, the rescue craft are quartered inside a mountain on a remote island somewhere in the Pacific. Deep inside the rock face, Thunderbird II prepares to load Pod 5 for another dangerous mission".
Notes: Thunderbird 2 selecting Pod 5 or 6, a scene which appears many times during the episodes. Possibly a studio shot.
64. "DOCTOR GORDON"
Text: "International Rescue organization to the rescue again! Averting disaster aboard giant passenger plane. Gordon and Brains take over the controls and administer first aid".
Notes: Another totally wrong description on the back of this card. This still is from Path Of Destruction and it's Virgil Tracy checking his watch to see how much time they have left before the Crablogger crashes into the San Martino Dam.
65. ATLANTIS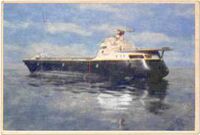 Text: "About to begin its maiden voyage, the 150,000 ton oil tanker cruises at 50 knots per hour. In the interest of safety, the hull is constructed in three separate sections. With a touch of a button, the captain can isolate each component".
Notes: Another screen shot of the Ocean Pioneer from Danger At Ocean Deep
66. OFF DUTY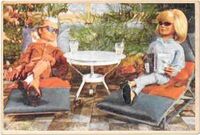 Text: "The magnificent modern villa of Jeff Tracy is an elaborate 'front' for the H.Q of International Rescue".
Notes: A still from Atlantic Inferno of Jeff and Lady Penelope relaxing by the swimming Pool, at her Australian Ranch.
67. U.N PATROL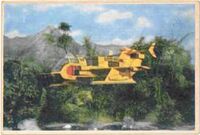 Text: "The United Nations rotary jet is widely used in jungle and swamp areas. Beneath the main section powerful hover jets support the craft over swampland or water, enabling rescuers to operate successfully in difficult conditions".
Notes: This helicopter is seen in Thunderbirds Are Go and the 'Captain Scarlet and the Mysterons' episode Place of Angels.
68. S.O.S... S.O.S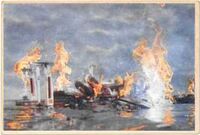 Text: "A blazing inferno is all that remains of the oil rig, Seascape. S.O.S. S.O.S. S.O.S. But all drillers have been saved by International Rescue".
Notes: The final moments of the oil rig Seascape from Atlantic Inferno.
69. The CAMERAMAN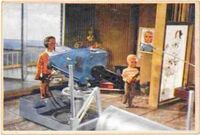 Text: "Brains focusing the closed circuit television camera for relaying hyper-space video pictures".
Notes: This is a still from a scene which was deleted from the movie Thunderbirds Are Go. It involved Jeff Tracy giving a speech on television, broadcast worldwide.
70. The PULVERIZER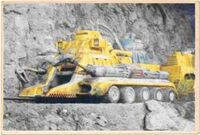 Text: "Heavy road-making equipment which incorporates twin hydraulic 'Crab' grabs for removing heavy obstacles. Sent into action by International Rescue whenever landslides or earthquakes occur".
Notes: A still of the Crablogger from Path Of Destruction.
71. SUPERFAST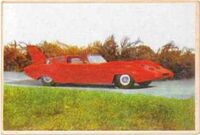 Text: "Red Devil is Alan Tracy's racing car powered by a dyno-fan jet-propelled engine giving a top speed of 650 MPH. The design includes a high rear stabilizing fin necessary for safety at these high speeds".
Notes: This is Alan Tracy's BR2 Racing Car, from Move And You're Dead.
72. THE WASP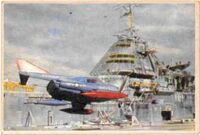 Text: "W.A.S.P. World Aquanaut Security Patrol monojet lands aboard the world's largest aircraft carrier, 'John F. Kennedy', of the World Navy".
Notes: This is a studio shot of the W.N.S Atlantic used in both The Impostors and Atlantic Inferno. The "Monojet" is a World Navy World Navy Helijet, also seen in Atlantic Inferno.
73. ON TEST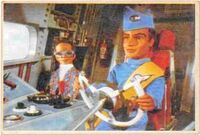 Text: "Brains, brilliant designer of the wonder machines used by International Rescue organization, co-pilots Gordon on important test flight of prototype rescue craft".
Notes: This is a still from Path Of Destruction, showing Brains and Virgil in Thunderbird 2.