The Space Exploration Centre is a building featured in Thunderbirds Are Go. It is located at a place called Cape Johnson.
The building itself never appears during the film; we only get to see an inquiry room inside.
Inquiry Room
Edit
The inquiry room was a room used for inquiries and votes, such as the discussion about the Zero X crash and whether people were for or against an idea.
The room was tangerine and black in colour and had at least 14 seats at the long table.
Board members
Edit
[List to be added]
Other Appearances (Isn't That...?)
Edit
Morrison from Security Hazard
Behind The Scenes
Edit
It was Sylvia Anderson's idea to have the inquiry room set only tangerine and black in colour. She could tell that art director Bob Bell wasn't keen on this, but as a producer, Sylvia was in charge, so Bob did as she asked.
The Supermarionation team had to get a crane inside the studio so they could film the whole inquiry room set.
Part of the floor was used again in the episode Alias Mr. Hackenbacker.
The set reportedly weighed two tonnes.[1]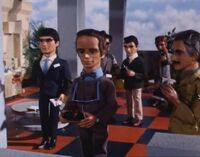 References
Edit