The speed merchant is a minor character from The Impostors.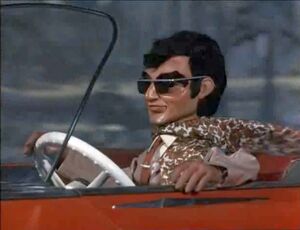 Passed by a Model T Ford!
Edit
As he was enjoying his drive, he got in the way of Jeremiah Tuttle, who was trying to get to Lady Penelope. The Speed Merchant was shocked when Jeremiah's old banger effortlessly overtook his modern sports car.
Speed Merchant's Car
Edit
Ad blocker interference detected!
Wikia is a free-to-use site that makes money from advertising. We have a modified experience for viewers using ad blockers

Wikia is not accessible if you've made further modifications. Remove the custom ad blocker rule(s) and the page will load as expected.