"Stardive" is the twentieth episode of Thunderbirds 2086, and twenty first produced overall. The episode first aired at an unspecified point after 1982.
Dylan is transformed from rescuer to rescuee when a disaster strands him on board the Centaur spaceship alongside Kristen Elliot, a rival pilot from the Blue Angels squad. With the ship locked on a decaying orbit towards Jupiter and air running out, the pair must put aside their differences to stay alive. Could their rivalry evolve into something more?
(To Be Added)
IRO Equipment Used
Edit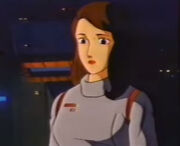 This episode did not air in Japan.
When Dylan shields Kristen from a bombardment of shrapnel, he is subsequently stabbed in the back. The English dub downplays the severity of his injuries, with him simply being winded instead.
Anderson Stock Library
Edit
As the Centaur crew rush to evacuate, the opening harp and drumroll portion of the Angel's launch theme from Captain Scarlet and the Mysterons is constantly looped in the background.
Foreign Name
Edit
Japanese: Crisis: Escape From Jupiter (危機:木星からの脱出)
Ad blocker interference detected!
Wikia is a free-to-use site that makes money from advertising. We have a modified experience for viewers using ad blockers

Wikia is not accessible if you've made further modifications. Remove the custom ad blocker rule(s) and the page will load as expected.