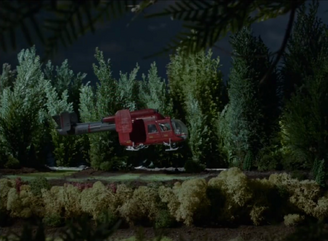 The Stealth Helijet was a special type of helijet that appeared in the Thunderbirds 1965 episode The Stately Homes Robberies. It was piloted by Mr. Charles and his manservant Dawkins to escape from the stately homes they had robbed, including Creighton-Ward Manor. It was spotted by Lady Penelope and Parker who fired a tracking device onto it and, by using a disguised listening device, they discovered the true identities of the Stately Home robbers, and that they were planning to rob the Tower of London, and steal the Crown Jewels.
After escaping the Tower, Penelope detonated the listening device which was actually a bomb and the resulting blast shockwave caused Dawkins to lose control of the aircraft and crash land it into the woods where it exploded. Later he and Mr. Charles were arrested and the Crown Jewels were quickly returned to the Jewel House.
Ad blocker interference detected!
Wikia is a free-to-use site that makes money from advertising. We have a modified experience for viewers using ad blockers

Wikia is not accessible if you've made further modifications. Remove the custom ad blocker rule(s) and the page will load as expected.