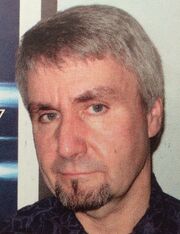 Steve Kyte (born c. 1958) is an British artist known for his work on TV21 comics and the Channel 5 VHS sleeves of Thunderbirds. He also contributed art for the Thunderbirds: Collectors Edition comics.
More recently, Kyte, along with Helen McCarthy, allowed Marcus Hearn to photograph and scan some of the rarest items from their collection for Thunderbirds: The Vault. Additionally Kyte, along with Graham Bleathman and Andrew Skilleter, was interviewed by Simon Guerrier for Thunderbirds: A Complete Guide to the Classic Series. Also, he was credited under "thanks to" on the aforementioned guide.
Ad blocker interference detected!
Wikia is a free-to-use site that makes money from advertising. We have a modified experience for viewers using ad blockers

Wikia is not accessible if you've made further modifications. Remove the custom ad blocker rule(s) and the page will load as expected.