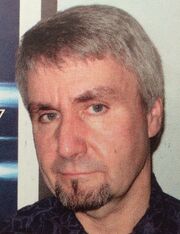 Steve Kyte (born August 1958) is an British artist known for his work on TV21 comics and the Channel 5 VHS sleeves of Thunderbirds. He also contributed art for the Thunderbirds: Collectors Edition comics.
More recently, Kyte, along with Helen McCarthy, allowed Marcus Hearn to photograph and scan some of the rarest items from their collection for Thunderbirds: The Vault.
Kyte, along with Graham Bleathman and Andrew Skilleter, was interviewed by Simon Guerrier for Thunderbirds – A Complete Guide to the Classic Series. Additionally, Kyte was credited under "thanks to" on said guide.