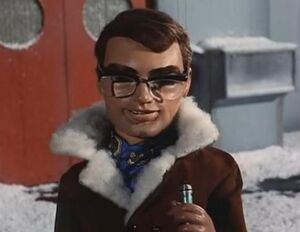 It's early Christmas Morning; and the TV Reporter is conducting a special live telecast from the roof of Harman's Department Store, in New York City - where a specially-prepared Christmas Rocket, donated by Saunders Automations and packed with toys provided by Harman's, is about to launch!
Following a ten-minute flight, the rocket will deliver its very special holiday cargo to the young patients at Coralville Childrens Hospital...
The TV Reporter appears in the episode Give or Take a Million; and was voiced by Jeremy Wilkin.

Ad blocker interference detected!
Wikia is a free-to-use site that makes money from advertising. We have a modified experience for viewers using ad blockers

Wikia is not accessible if you've made further modifications. Remove the custom ad blocker rule(s) and the page will load as expected.