The Band of H.M. (Her Majesty's) Royal Marines, also known as The Band of the Royal Marines and The Royal Marines Band Service, are the real-life musicians of the Corps of Royal Marines. They were asked to perform the Thunderbirds theme song at the end of the 1966 Thunderbirds Are Go Movie.
Performance
Edit
105 members of the Band (Lt. Col. F. Vivian Dunn (conductor), 2 drum majors, 2 bass drummers, 4 tenor drummers, 2 cymbalists, 22 drummers/buglers, 9 trombonists, 6 saxophonists) assembled outside the Royal Marines School of Music in Deal, Kent, under the guidance of Dunn and Barry Gray to perform the song. It took a single morning (despite the weather going from sunny to rainy) to record for the credits.
Their scene also includes a humorous disclaimer: "None of the characters appearing in this photoplay resemble any persons living or dead ... since they do not yet exist!"; however, this is contrary to the puppets being modeled after 1960's celebrities.

The bands present in the credits are believed to be HMRMB Portsmouth and Plymouth (based at HMS Nelson and HMS Raleigh, respectively), two of the five bands of Royal Marines based in Britain (the other three are HMRMB Scotland, HMS Collingwood and Commando Training Centre Royal Marines (based at HMS Caledonia, HMS Collingwood and Commando Training Centre Royal Marines, respectively)).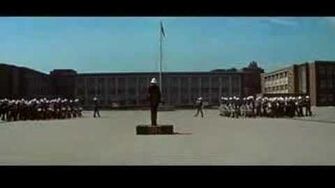 The person who bellowed "Thunderbirds... are... go!" was Drum Major Charles Henry Bowden (21 December 1916 — 7 January 2011).
Ad blocker interference detected!
Wikia is a free-to-use site that makes money from advertising. We have a modified experience for viewers using ad blockers

Wikia is not accessible if you've made further modifications. Remove the custom ad blocker rule(s) and the page will load as expected.