The Brains Behind Thunderbirds is an exclusive UK VHS video tape released by Carlton International. Created as an introduction to the Thunderbirds series and presented by Brains, it was later released as The Thunderbirds Companion, part of the complete Thunderbirds DVD Boxset, which featured additional extended footage and interviews with Gerry Anderson, David Graham, Bob Bell, John Blundall, Mary Turner and Alan Pattillo. Studio production was done by Yellow! for Carlton International.
Episode Clips Included
Edit
Thunderbirds The CompanionEdit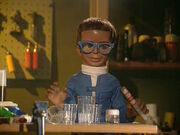 Ad blocker interference detected!
Wikia is a free-to-use site that makes money from advertising. We have a modified experience for viewers using ad blockers

Wikia is not accessible if you've made further modifications. Remove the custom ad blocker rule(s) and the page will load as expected.