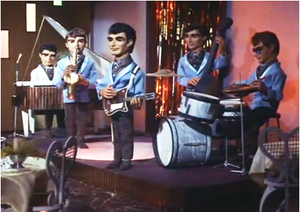 The Cass Carnaby Five is a five piece band seen in The Cham-Cham. Led by Cass Carnaby, they performed their hit song "Dangerous Game" at the Paradise Peaks Hotel.
Band leader Cass Carnaby, cleared of any wrongdoing, went on to perform at Monte Bianco and other venues.
Cass Carnaby's Fab Four
Edit
Ad blocker interference detected!
Wikia is a free-to-use site that makes money from advertising. We have a modified experience for viewers using ad blockers

Wikia is not accessible if you've made further modifications. Remove the custom ad blocker rule(s) and the page will load as expected.