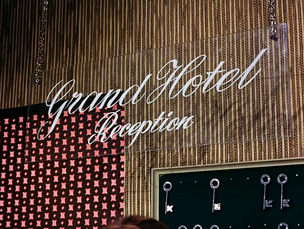 The Grand Hotel is located somewhere in the south of France, seen in The Duchess Assignment. Deborah the Duchess of Royston stayed there while visiting the French Casino.
Lady Penelope visited the hotel in search of the Duchess, but was told by the hotel receptionist that she had checked out that evening.
She gave Lady Penelope a forwarding address of "Royston Castle, England".
Hotel Guests
Edit
Five guests can be seen standing at the bar, being served by the bar tender.

Guest in fawn jacket
Man with grey curly hair
Man with uniform and white hat
Man with dark green polo neck jumper
Bar tender
Man with black hair (face hidden)
Other Appearances (Isn't That...?.)
Edit
Ad blocker interference detected!
Wikia is a free-to-use site that makes money from advertising. We have a modified experience for viewers using ad blockers

Wikia is not accessible if you've made further modifications. Remove the custom ad blocker rule(s) and the page will load as expected.