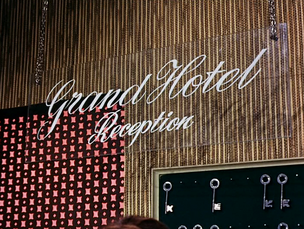 The Grand Hotel is located somewhere in the south of France, seen in The Duchess Assignment. Deborah the Duchess of Royston stayed there while visiting the French Casino.
Lady Penelope visited the hotel in search of the Duchess, but was told by the hotel receptionist that she had checked out that evening.
She gave Lady Penelope a forwarding address of "Royston Castle, England".
Hotel Guests
Edit
Five guests can be seen standing at the bar, being served by the bar tender.
Other Appearances (Isn't That...?.)
Edit