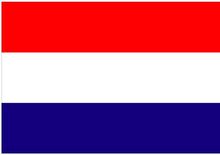 The Netherlands is a country in North-Western Europe. It is sometimes called Holland.
Thunderbirds on Dutch televisionEdit
Dutch television occupies a unique place in the history of Thunderbirds in that it was the first in the world to air an episode of the series. The first episode, Trapped in the Sky, was aired in the Netherlands on Wednesday, September 15, 1965, at the improbable hour of 9pm local time. This is 15 days before the show's UK television debut.
Initially, the episodes were broadcast in black-and-white, as colour television did not exist in Holland at the time. The first episode to be broadcast in colour was Path of Destruction on September 25, 1967. The first 12 episodes were also dubbed in Dutch. After that, they were subtitled.
The show was aired by the public broadcasting association AVRO, who decided to make it a monthly show. Because of this, only 3 episodes were aired in the Netherlands before they first aired in the UK: Trapped in the Sky, Terror in New York City, and End Of The Road. It also meant the show ran for three television seasons, the last episode airing nearly 33 months after the first. Even so, when broadcasts ceased in August 1968, only 29 of the 32 episodes had been aired. (The final three broadcasts were repeats.) Television viewers had to wait well over 20 years for an opportunity to watch the remaining three (The Mighty Atom, Attack of the Alligators!, and Atlantic Inferno.)
First Television Run
Edit
Second Television Run
Edit
Since the first run was incomplete, an overview of the second run is shown below. Note that it too had only 29 episodes in it. The last episode, Atlantic Inferno, finally aired on September 12th, 1992, almost exactly 27 years after the first.
Gallery: Dutch VHS Video Tapes
Edit
This series of tapes was released by SMV Enterprises in 1993.
Gallery: Dutch DVDs (Carlton)
Edit