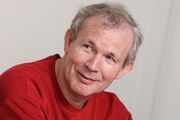 Theo de Klerk (born April 13th, 1954) is a physics teacher. He contributed an article entitled "The Physics of Thunderbirds" to Thunderbirds – A Complete Guide to the Classic Series, where he examined the fact and fiction of the five main Thunderbird craft.
In addition to backing Thunderbirds 1965, de Klerk received thanks on Century 21 FX Update for his help and contributions to said book, and finally for Thunderbirds: The Vault he received thanks from author Marcus Hearn for his priceless contributions to picture research.
External Links
Edit
Ad blocker interference detected!
Wikia is a free-to-use site that makes money from advertising. We have a modified experience for viewers using ad blockers

Wikia is not accessible if you've made further modifications. Remove the custom ad blocker rule(s) and the page will load as expected.