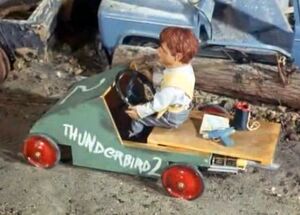 In Cry Wolf, Bob Williams and his brother Tony, who are big fans of International Rescue, drive their own go kart modelled and based on Thunderbird 2.
Rescue from a Cliff Edge
Edit
Tony Williams rescues his brother Bob from the cliff face after arriving on the scene in the go-kart. Unwittingly they call out International Rescue on their walkie-talkies.
Trapped in a Mine
Edit
The boys' next adventure is for Tony to get rescued from an old mine. Bob arrives in Thunderbird 2, to find that Tony has gone into the mine.
Ad blocker interference detected!
Wikia is a free-to-use site that makes money from advertising. We have a modified experience for viewers using ad blockers

Wikia is not accessible if you've made further modifications. Remove the custom ad blocker rule(s) and the page will load as expected.