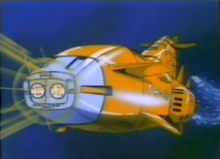 Thunderbird 4 is a yellow deep sea submarine constructed by IRO. Piloted by Captain Kallan James, the craft is usually stored aboard one of Thunderbird 2's six interchangeable Pods for ease of transport. Powered by an Olympic Mark VIII twin electric drive, Thunderbird 4 can reach depths of 11,000 metres while travelling at a maximum speed of 120 knots.
Though serving as IRO's primary undersea rescue craft, more specialised operations may require the use of Thunderbirds 13 and 14, both of which are permanently stored in Thunderbird 4's cargo hold.
Specifications
Edit
Length: 147 feet
Width: 50 feet
Height: 47 feet
Appearances
Edit
Thunderbird 4 was deployed for rescues in 8 episodes: Fault Line, Shadow Axis, Shockwave, Thunderbolt, Big Deal, Cloudburst, Crusader, and Metal Head. Footage from Big Deal was recycled for the craft's appearance in Child's Play.
Ad blocker interference detected!
Wikia is a free-to-use site that makes money from advertising. We have a modified experience for viewers using ad blockers

Wikia is not accessible if you've made further modifications. Remove the custom ad blocker rule(s) and the page will load as expected.