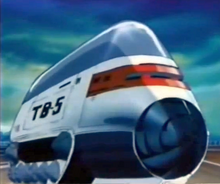 Thunderbird 5 is a white and grey Ground Operations Vehicle constructed by IRO. Stored and carried inside one of Thunderbird 2's numerous Pods and piloted by Gran Hanson, TB-5 was designed for high-intensity missions. These rescues including (but not limited to) manoeuvring through uncontrollable forest fires and avalanches, disposing explosives and toxic material, plus demolishing obstacles such as concrete walls, trees, and layers of rock.
TB-5 was built primarily from Mandellium alloy, combining efficient internal insulation with incredible external resilience of up to 4000 degrees Celsius.
Specifications
Edit
Length: 94 feet
Width: 40 feet
Height: 44 feet
Appearances
Edit
Despite its versatility, Thunderbird 5 only appeared in Snowbound, the fourth episode of Thunderbirds 2086.