"Thunderbirds: The Vault" is a Stub.
You can help Thunderbirds Wiki by expanding it!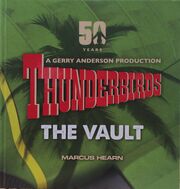 Thunderbirds: The Vault is a book about the 1960s Thunderbirds series as well as the two feature films. As well as featuring episode and film guides, the book goes into detail about the making of said productions.
It was written by Marcus Hearn and designed by Mike Jones.
Ad blocker interference detected!
Wikia is a free-to-use site that makes money from advertising. We have a modified experience for viewers using ad blockers

Wikia is not accessible if you've made further modifications. Remove the custom ad blocker rule(s) and the page will load as expected.