Thunderbirds: Volume 6
Director(s)
Writer(s)

Dennis Spooner
Alan Pattillo

Distributor

Channel 5
PolyGram Entertainment

Released

1987

Runtime

c. 96 mins.
Thunderbirds: Volume 6 by Channel 5 is a VHS video tape featuring two episodes of the Thunderbirds television show. It was released in the UK in 1987.
The blurb on the back cover misspells Tracy as "Tracey", and Lord Silton as "Lord Selton".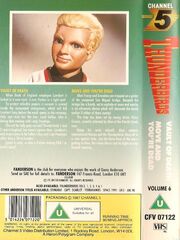 Ad blocker interference detected!
Wikia is a free-to-use site that makes money from advertising. We have a modified experience for viewers using ad blockers

Wikia is not accessible if you've made further modifications. Remove the custom ad blocker rule(s) and the page will load as expected.