Thunderbirds: Volume 8
Director(s)
Writer(s)

Dennis Spooner
Alan Pattillo

Distributor

Channel 5 -
PolyGram Entertainment

Released

1987

Runtime

c. 97 mins.
Thunderbirds: Volume 8 by Channel 5 is a VHS videotape featuring two episodes of the Thunderbirds television show. It was released in the UK in 1987.
Since the Channel 5 video releases presented the episodes in the ITC Recommended Broadcast order, the episodes on this volume should really have been the other way around.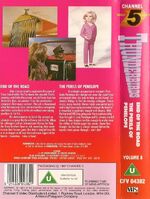 Ad blocker interference detected!
Wikia is a free-to-use site that makes money from advertising. We have a modified experience for viewers using ad blockers

Wikia is not accessible if you've made further modifications. Remove the custom ad blocker rule(s) and the page will load as expected.