"Thunderbirds 1965" is Under Construction.
Please feel free to add anything that you think might improve this page.
Thunderbirds 1965 was a project led by Filmed In Supermarionation director Stephen La Rivière. Its aim was to produce three new Thunderbirds episodes using original 1960s voice tracks, and retro filmmaking techniques.
It began seeking funding through Kickstarter[1] on July 9th 2015, and successfully obtained funding for all three planned episodes.
The majority of the main cast appear across the three episodes with Jeff Tracy, Lady Penelope, Parker, Scott, Gordon, Virgil and Brains appearing in all three. Note that Virgil only appears in stock footage, and that Brains is only heard in one episode, and only seen in the other two.
The main characters that don't appear at all are Tin-Tin, Grandma Tracy and Kyrano.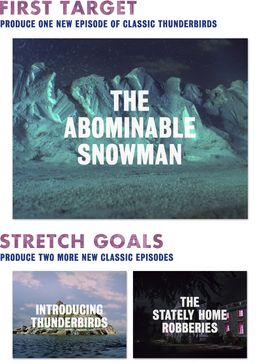 References
Edit
Ad blocker interference detected!
Wikia is a free-to-use site that makes money from advertising. We have a modified experience for viewers using ad blockers

Wikia is not accessible if you've made further modifications. Remove the custom ad blocker rule(s) and the page will load as expected.