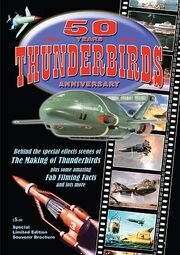 The Thunderbirds 50th anniversary brochure is a special limited edition souvenir published by Alan Shubrook. As well as going behind the scenes of the classic 1960's series, the book explores the making (to an extent) of the two feature films - Thunderbirds Are Go and Thunderbird 6 - as well as a number of other Gerry Anderson productions.
Additional info
Edit
Ad blocker interference detected!
Wikia is a free-to-use site that makes money from advertising. We have a modified experience for viewers using ad blockers

Wikia is not accessible if you've made further modifications. Remove the custom ad blocker rule(s) and the page will load as expected.