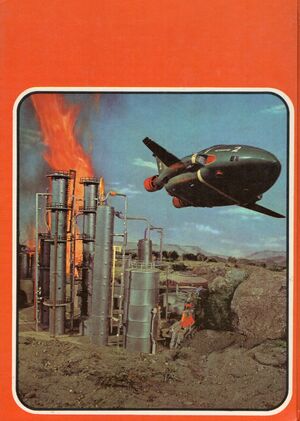 Titled Gerry Anderson's Thunderbirds, and released in late 1967, this was the 3rd year of the annuals and followed the same format as in the previous years.
The only cut-away in this annual was a fantasy craft know as "The Bean", that was designed by Brains. A rescue capsule able to withstand great heat, such as inside a volcano. It was used in the novel "The Bean is Born" and the cut-away featured on a two page spread.
Additional info
Edit
Country of Publ.: United Kingdom
Dimensions: 310mm x 210mm
Format: Hardback
Illustrator: Eric Eden
Pagination: 94 pages
Publ. Date: Late 1967
Copyright Date: 1968
Publisher: Century 21 Publishing Ltd
Distributor: City Magazines Ltd (UK)
Printers: Jarrold & Sons Ltd Norwich, England
Retail Price: 12/6 (62.5 New pence)
The Bean (Cutaway drawing)
Edit
The installation pictured on the back cover is (part of) A'Ben Duh Oil Refinery from Ricochet. It was later used several times in Captain Scarlet and the Msterons.