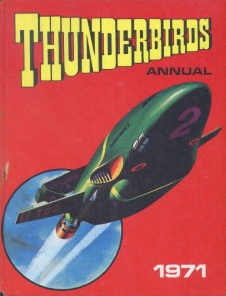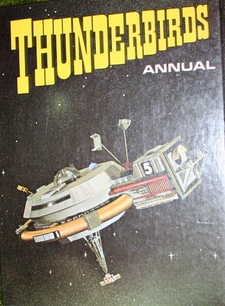 After the poor sales of the Thunderbirds/Captain Scarlet and the Mysterons annual of 1970, City Magazines published the Thunderbirds 1971 annual the following year.
The annual in fact still had Captain Scarlet and the Mysterons stories as well as other non Anderson contents including Football, Secret Agent 21 and a cartoon strip based on Department S.
At the end of the novel "The Crab", Thunderbird 4 was featured with black and white cut-away, this in fact was a reprint that had previously been seen in the 1966 annual.
Note: Only Thunderbirds related features are listed below:
Additional info
Edit
Country of Publ.: United Kingdom
Dimensions: 265mm x 210mm
Format: Hardback
Illustrator: Eric Eden
Pagination: 94 pages
Publ. Date: Late 1970
Publisher: City Magazines Ltd (UK)
Distributor: City Magazines
SBN: 7235 0092 4
Retail Price: 12/6 (Twelve shillings and six pence) or 62 New Pence.
This is the first Thunderbirds annual that had the date printed on the cover, and confirmed that the copyright date is the same, unlike tradition, the 1971 annual should of had a copyright date of 1970, as annuals are always released in time for the Christmas sales.
Cross Section (Cutaway Drawing)
Edit
The Thunderboys feature
Edit