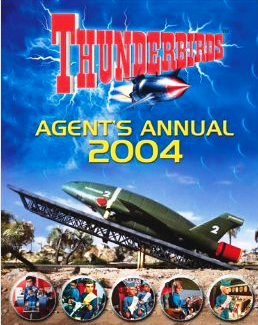 To date (2017) there have been eleven Thunderbirds annuals released in the UK. The first issued in 1966 was followed by a further two issues, until in 1969 the decision was made to release a Thunderbirds/Captain Scarlet annual. This did not reach the same sales as in previous years and two more Thunderbird annuals followed in 1970 and 1971.
Twenty years later Thunderbirds had again took television by storm and Grandreams Ltd won the contract to release an annual in time for Christmas 1992 and 1993. Incredibly for a third time, forty-five years after Thunderbirds was first shown on TV, another annual was published in time for Christmas 2000 and again in the following 3 years. The final annual was published late in 2003 making it one of the longest running Annuals ever released.
The Annuals
Edit
A more in-depth look at each title can be found in there respective pages.
Overseas Releases
Edit
Thunderbirds Top Secret Jaarboek 2001 (The Top Secret Annual 2001, reprinted in Dutch)
Thunderbirds FAB Annual 2003 (Reprinted in Japanese)
Second-hand Copies have been seen for sale in far-away places, such as Japan, which would suggest that the English language versions was sold through-out the world.
Although Thunderbirds can claim to being published over a span of forty-five years, several other titles such as Rupert Bear, Beano, Dandy has far exceed this number. The only television show to release more annuals over the years was Doctor Who (1965 to 1986).