To coincide with the new series, a Thunderbirds Are Go! Toy Range is scheduled for release. The primary line of figures and vehicles will be headed by Vivid Imaginations, a company who first acquired the license to produce Thunderbirds toys in 1999.
4 Inch Action Figures
Edit
Basic Size Vehicles
Edit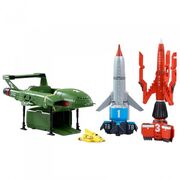 Supersize Vehicles
Edit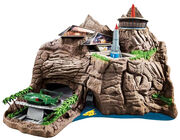 Scott Tracy International Rescue Uniform
Tomica Die-Cast Models
Edit
Thunderbird 1 Model
Thunderbird 2 Model
Thunderbird 3 Model
Thunderbird 4 Model
Thunderbird 5 Model
Thunderbird S Model
The Mole
Fab 1
Thunderbirds Rescue Game
Edit
Exclusive Items
Edit
A limited edition PlayStation 4 was offered by Roadshow Entertainment in Australia as a prize during June-July 2015. Bizarrely, it featured a Thunderbird 2 skin, instead of the perhaps more appropriate Thunderbird 4.
Although initially slated for July 2015, the first wave of toys made their world debut at selected Australian retailers in late May.
Ad blocker interference detected!
Wikia is a free-to-use site that makes money from advertising. We have a modified experience for viewers using ad blockers

Wikia is not accessible if you've made further modifications. Remove the custom ad blocker rule(s) and the page will load as expected.