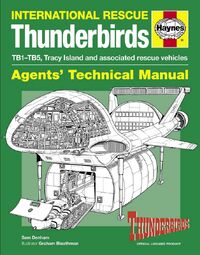 The Thunderbirds Manual (Agents' Technical Manual) is "an inventive, informative and entertaining guide to the world's foremost rescue organisation. Featuring cutaway drawings, detailed diagrams, colour illustrations and photographs, it provides the ultimate insight into the secrets of the fabulous International Rescue team, including in-depth examinations of the Thunderbirds craft and other vehicles. Intended for International Rescue field agents, this "Haynes Manual" includes an introduction by Jeff Tracy and operational procedures for agents' missions."
A personal introduction by International Rescue's founder and commander in chief, Jeff Tracy.
Background information about the amazing technological and scientific achievements of the late 21st century.
A history of the creation of International Rescue.
Fully detailed and comprehensively annotated cutaway drawings of all the major Thunderbirds craft, specialised rescue vehicles and Tracy Island installations by renowned cutaway artist Graham Bleathman.
Profile illustrations of all the Thunderbirds craft by original Thunderbirds production artist Mike Trim, plus further illustrations by computer-generated imagery artist and film-maker Chris Thompson.
Mission files relating all major International Rescue call-outs.
Additional info
Edit
Sam Denham is an authority on Thunderbirds and has written several books on the subject.
Graham Bleathman is renowned and respected for his cutaway drawings of the Thunderbirds.
Author: Sam Denham, Graham Bleathman
Country of Publ.: United Kingdom
Design: Richard Parsons
Dimensions: 270mm x 210mm
Editor: Derek Smith
Format: Hardback, fiftieth anniversary edition is paperback
Illustrator: Graham Bleathman
Imprint: J H Haynes & Co Ltd
ISBN/EAN: 978 0 85733 117 5
Pagination: 135 pages
Publ. Date: June 2012
Publisher: Haynes Publishing Group
Retail Price: £14.99
Reprint Editions
Edit

New Cover, Same format as above except the following:
Publ. Date: 2013 and again February 2014
Thunderbirds 50th Anniversary Manual
Edit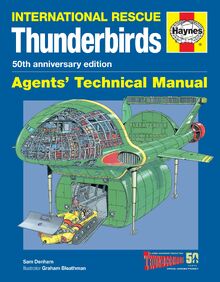 This new edition of the Haynes Thunderbirds Manual was published to celebrate the 50th anniversary of the first airing of the original Supermarionation series, in September 1965.
The manual has an extra 18 pages added, filled with never seen before cutaway drawings of The Fireflash, Monotrain, Highway Pathfinder (Gray and Houseman road construction vehicle), Crablogger, Sidewinder, U.S.N Sentinel and the Martian Space Probe, as well as a section on the Hood's criminal activities.
New Cover, Same format as above except the following:
Publ. Date: September 2015
Ad blocker interference detected!
Wikia is a free-to-use site that makes money from advertising. We have a modified experience for viewers using ad blockers

Wikia is not accessible if you've made further modifications. Remove the custom ad blocker rule(s) and the page will load as expected.