Continuing Thunderbirds the comic issues 31 - 60.
For issues 1 - 30
Main article: Thunderbirds The Comic
Issue Number 31
Edit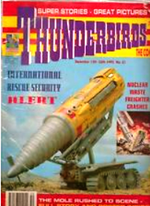 Date Published: 12th December 1992
Comic Strip (35): Brink Of Disaster , part 2.
Comic Strip (36): City Of Doom , part 1.
Comic Strip (29): Mr. Steelman (Lady Penelope Meets Parker) , part 8.
Comic Strip (33): The Time Machine , part 5.
Thunderbirds Are Go Magazine
Edit
"Thunderbird Are Go" Magazine, 1st issue 13th May 1995. This only lasted for 8 issues before being scrapped. Several specials were issued, including Poster magazines (9 issues), two Holiday Specials.
Other Language Issues
Edit
In 1994 the Dutch company "Semic Junior Press" published the Magazine in Dutch; this lasted for 18 issues. Two issues were also released in Finnish.
Ad blocker interference detected!
Wikia is a free-to-use site that makes money from advertising. We have a modified experience for viewers using ad blockers

Wikia is not accessible if you've made further modifications. Remove the custom ad blocker rule(s) and the page will load as expected.