Tin-Tin appears in every episode except Pit of Peril and Lord Parker's 'Oliday. She also appears in both feature films - Thunderbirds Are Go and Thunderbird 6.
Trapped in the Sky
Edit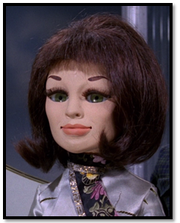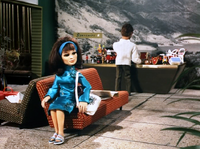 Tin-Tin is amongst the passengers trapped on board Fireflash, when the hypersonic airliner is unable to land due to a bomb planted in its landing gear - by her half-uncle, The Hood...
City of Fire
Edit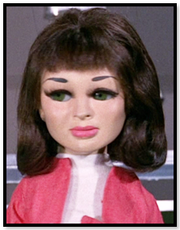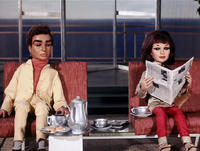 In one of Tracy Island's lab facilities, Tin-Tin and Brains carefully monitor Scott and Virgil as they test new cutting equipment that utilizes oxyhydnite gas. Things don't quite turn out as expected - and this could loom large, as the two brothers are called to rescue a family from the blazing Thompson Tower...
Sun Probe
Edit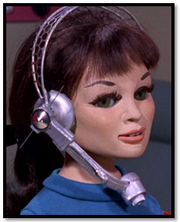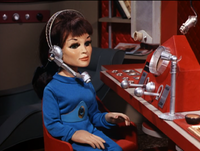 Tin-Tin blasts off into space aboard Thunderbird 3, with Alan and Scott, to rescue the imperiled Sun Probe rocket. The mission succeeds...but, at what cost?
The Uninvited
Edit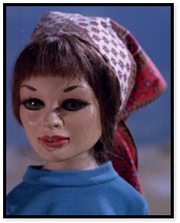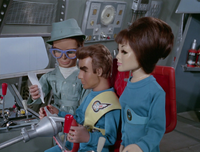 Tin-Tin persuades Jeff to allow her to accompany Virgil and Brains aboard Thunderbird 2, as they set off for the Sahara Desert to rescue Scott - after he and Thunderbird 1 had been shot down by three unidentified fighter planes...
The Mighty Atom
Edit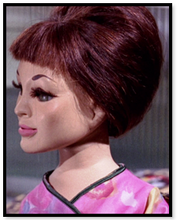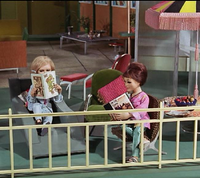 During Lady Penelope's visit to Tracy Island - her first since International Rescue commenced operations - she and Tin-Tin are seen chatting together and reading magazines, as they take their ease on the Tracy Villa's verandah...
Vault of Death
Edit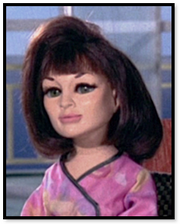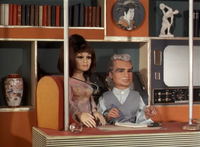 Tin-Tin is seen briefly with Jeff Tracy on Tracy Island.
Operation Crash-Dive
Edit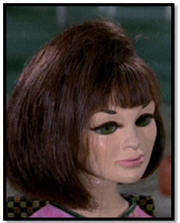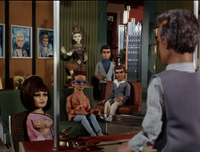 Tin-Tin is seen in the Tracy Villa with John, who's home on leave from Thunderbird 5 - and again later on, during a group discussion led by Jeff in the Tracy Lounge...
Move and You're Dead
Edit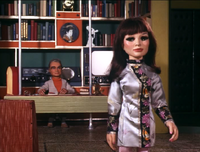 Tin-Tin joins Virgil aboard Thunderbird 2, as they transport Alan (and his new Brains-designed race car) to a drop-off point for Parola Sands Raceway - where an exciting (and fateful) day of racing awaits...
Martian Invasion
Edit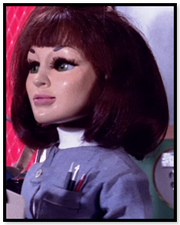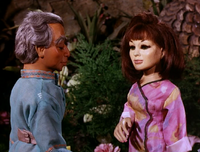 Tin-Tin's in Thunderbird 1's hangar bay, carrying out maintenance checks in the rocket-plane's pilot's cabin... when an unexpected visitor comes to call...
Brink of Disaster
Edit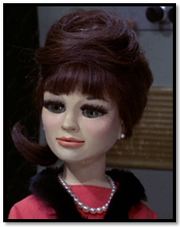 Tin-Tin and Brains accompany Jeff, as his advisors, aboard the new Pacific-Atlantic Monotrain, as Jeff listens to a business pitch by its president - the less-than-above-board Warren Grafton...
The Perils of Penelope
Edit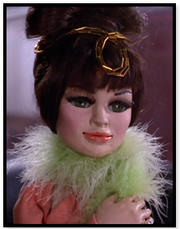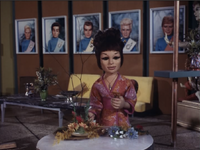 With a timely assist from Parker, Tin-Tin (in full evening-dress) appears at a Parisian restaurant to surprise Alan, who's dining with Lady Penelope and Sir Jeremy Hodge. Et voila!
Terror In New York City
Edit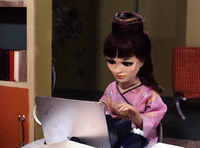 Everyone, including Tin-Tin, hurriedly repairs to the Cliff House - Tracy Island's emergency control center - and can only watch in horror, as the stricken Thunderbird 2 crashes and skids uncontrollably along the island's runway...
End of the Road
Edit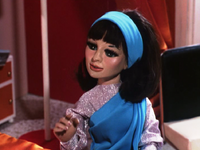 Tin-Tin's relationship with Alan is upended with the surprise visit of Eddie Houseman - her old flame - to Tracy Island...
Day of Disaster
Edit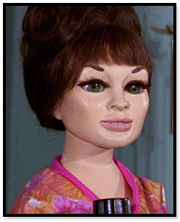 After Grandma Tracy's tiny personal edible transmitter accidently got baked up in one of her apple pies - and someone all-as-accidentally ate it! - Tin-Tin brings a bottle of transmitter dissolver, for whoever it was that swallowed it. "I'll go quietly," a much-chastened Jeff responds, after everyone else has left the room!
Edge of Impact
Edit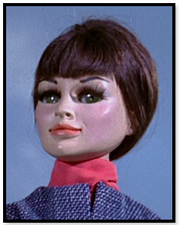 Tracy Island
's playing host to
Colonel Tim Casey
, an old friend of
Jeff
's - a
very
awkward time for a rescue call to come in! It's up to
Tin-Tin
to keep him distracted, while the
Thunderbirds
take off - he mustn't learn his fellow jet-jockey's secretly the leader of
International Rescue
...
Desperate Intruder
Edit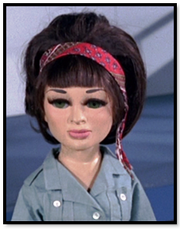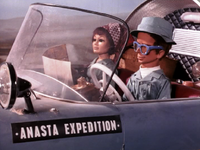 Sand traps: with an assist from Virgil and
Thunderbird 2
,
Tin-Tin
and
Brains
are off to North Africa to join
Professor Blakely
's
Lake Anasta
expedition, and explore an ancient sunken temple there. Treasure - and danger - await them, below...
30 Minutes After Noon
Edit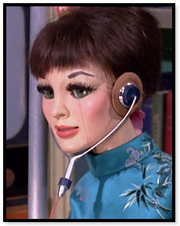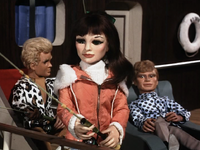 Tin-Tin, Alan and Gordon are recalled from their deep-sea fishing excursion when a call for help arrives, regarding a man trapped in the burning Hudson Building. While Alan joins Virgil aboard Thunderbird 2, Tin-Tin listens to news broadcasts detailing the situation and relays them to Scott, who's already en route in Thunderbird 1...
The Imposters
Edit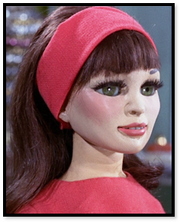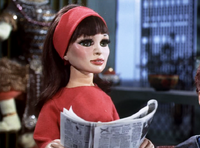 International Rescue
's done it again - or,
have
they? Everyone on
Tracy Island
's reading the news reports in total disbelief, and with good reason: it
wasn't them
! So, who
was
it? At first,
Jeff
dissembles awkwardly about it all. But
Tin-Tin
isn't fooled: she sees the hurt, and shock, in him as he walks away...
The Man from MI.5
Edit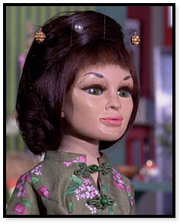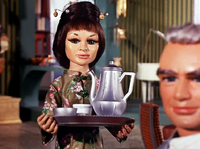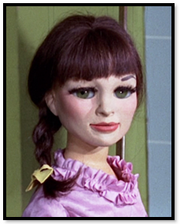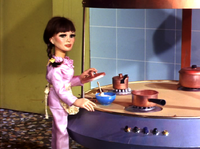 "There's enough food here for an army!"
Tin-Tin
exclaims, on seeing the vast spread
Grandma Tracy
's prepared for two special visitors
Scott
's bringing to
Tracy Island
. Having helped raise her five grandsons, though, Grandma knowingly responds: "An army, perhaps...two growing young boys, I'm not so sure!"
Danger at Ocean Deep
Edit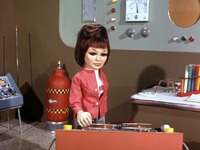 The sound, and the fury: after Brains returns to Tracy Island with John from Thunderbird 5, Tin-Tin joins him in the laboratory as he experiments to find what's been causing interference to IR's radio transmissions...
The Duchess Assignment
Edit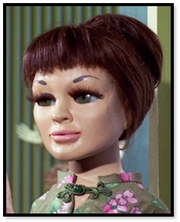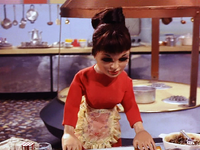 Attack of the Alligators!
Edit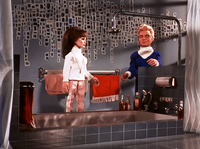 Having just returned home to Tracy Island from a shopping trip to the mainland, Tin-Tin's missed out on the boys' latest rescue. However, she's eager to show Alan the gift she got for his upcoming birthday - and it's in the bathroom! (The bathroom?) And it's just what he's always wanted, too: a baby alligator!
The Cham-Cham
Edit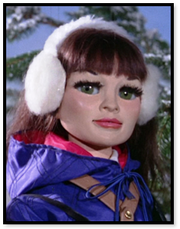 Alan believes The Cass Carnaby Five's live broadcasts of their hit tune - Dangerous Game - are somehow connected to recent crashes of RTL 2 military flights. The group's currently appearing at Paradise Peaks - a super-deluxe hotel, high up in the Swiss Alps - so Jeff sends Lady Penelope and Tin-Tin there, to investigate...
Atlantic Inferno
Edit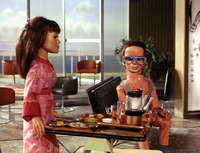 Path of Destruction
Edit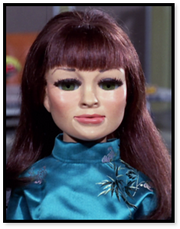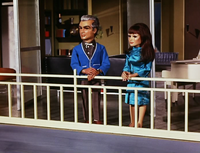 Jeff and Tin-Tin watch the boys fly off on another mission.
Alias Mr Hackenbacker
Edit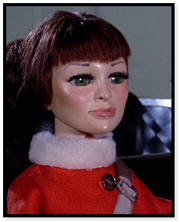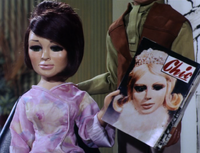 Tin-Tin shows off the latest issue of the high-fashion magazine, Chic - which includes an article on Lady Penelope, and features her on its cover!
Later, she and Brains (using an alias) travel to London to witness the maiden flight of his newest airliner design - the Skythrust, which is also hosting an onboard fashion show whose models include Penelope herself. When hijackers take over the aircraft - and hold its passengers hostage - it's up to "Mr. Hackenbacker" to save the day...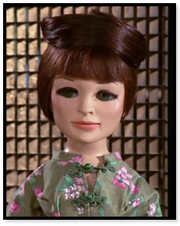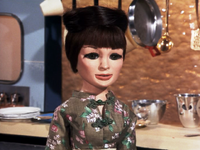 With Thunderbird 5 temporarily off the air - while John and Gordon upgrade the space-station's electronics - on Tracy Island, Tin-Tin hears, over her portable TV, an SOS from Rick O'Shea - whose pirate-TV satellite, KLA, is crashing uncontrollably back to Earth...
Give or Take a Million
Edit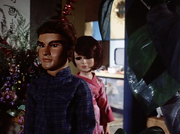 Up on the rooftop: it's late Christmas Eve on Tracy Island, and Tin-Tin and Virgil are sharing a late-night coffee before he departs for Coralville aboard Thunderbird 2. But then, both hear noises coming from the roof of the Tracy Villa...