Tin-Tin appears in every episode except Pit of Peril and Lord Parker's 'Oliday. She also appears in both feature films - Thunderbirds Are Go and Thunderbird 6.
Trapped in the SkyEdit
Pit of PerilEdit
Tin-Tin was not seen in the episode.
City of FireEdit
Sun ProbeEdit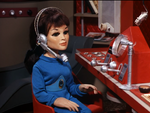 The UninvitedEdit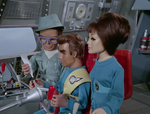 The Mighty AtomEdit
Vault of DeathEdit
Operation Crash-diveEdit
Move and You're DeadEdit
Martian InvasionEdit
Brink of DisasterEdit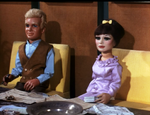 The Perils of PenelopeEdit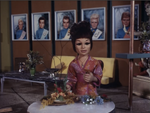 Terror In New York CityEdit
The Crash Landing Of Thunderbird 2
Edit
Tin-Tin watched in horror as Virgil landed the stricken Thunderbird 2.
The End of the RoadEdit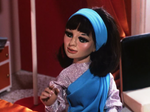 Day of DisasterEdit
Edge of ImpactEdit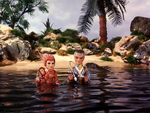 Desperate IntruderEdit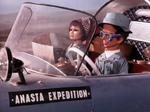 30 Minutes After NoonEdit
Tin-Tin listens to the news broadcast, detailing the fire at the Hudson building, and report back to Scott in Thunderbird 1.
The ImpostersEdit
The Man from MI.5Edit
Danger At Ocean DeepEdit
Tin-Tin helps Brains, in the laboratory, with his experiment to find the cause of the interference, to their radio transmissions.
The Duchess AssignmentEdit
Attack of the Alligators!Edit
Tin-Tin has just returned from a shopping trip to the mainland and has missed all the action. However she has bought Alan a present for his birthday which she shows him in the bathroom. It is just what he always wanted: a baby alligator!
The Cham-ChamEdit
Security HazardEdit
Tin-Tin was not seen in the epis
Atlantic InfernoEdit
Path of DestructionEdit
Alias Mr HackenbackerEdit
Ad blocker interference detected!
Wikia is a free-to-use site that makes money from advertising. We have a modified experience for viewers using ad blockers

Wikia is not accessible if you've made further modifications. Remove the custom ad blocker rule(s) and the page will load as expected.