"Tin-Tin Kyrano/Appearances" is under construction.
Please feel free to add anything that you think might improve this page.
Tin-Tin appears in every episode except Pit of Peril and Lord Parker's 'Oliday. She also appears in both feature films - Thunderbirds Are Go and Thunderbird 6.
Trapped in the Sky
Edit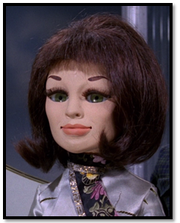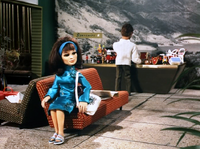 Tin-Tin is amongst the passengers trapped on board Fireflash, when the hypersonic airliner is unable to land due to a bomb planted in its landing gear - by her half-uncle, The Hood...
City of Fire
Edit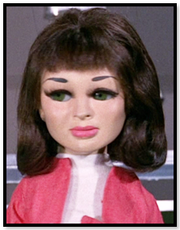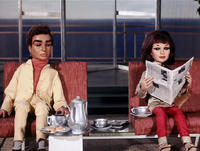 In one of the Tracy Island laboratory facilities, Tin-Tin and Brains are monitoring tests - being carried out by Scott and Virgil - of new cutting equipment that utilizes oxyhydnite gas...
Sun Probe
Edit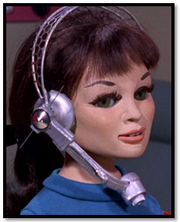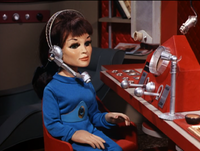 Tin-Tin blasts off into space, with Alan and Scott, aboard Thunderbird 3, to rescue the imperiled Sun Probe rocket. The mission succeeds...but, at what cost?
The Uninvited
Edit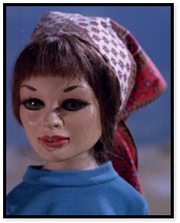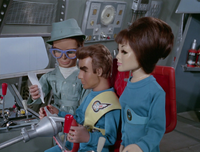 Tin-Tin persuades Jeff to allow her to accompany Virgil and Brains aboard Thunderbird 2, as they set off for the Sahara Desert to rescue Scott - after he and Thunderbird 1 had been shot down by three unidentified fighter planes...
The Mighty Atom
Edit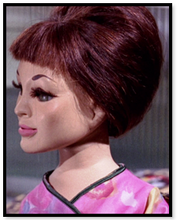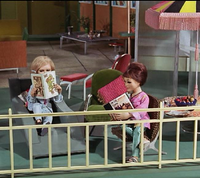 During Lady Penelope's visit to Tracy Island - her first since International Rescue commenced operations - she and Tin-Tin are seen chatting together and reading magazines, as they take their ease on the Tracy Villa's verandah...
Vault of Death
Edit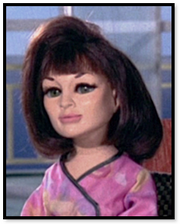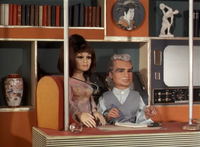 Tin-Tin is seen briefly with Jeff Tracy on Tracy Island.
Operation Crash-dive
Edit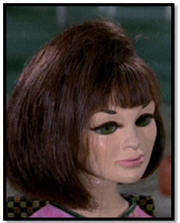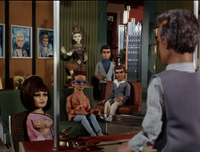 Tin-Tin is seen in the Tracy Villa with John, who's home on leave from Thunderbird 5 - and again later on, during a group discussion led by Jeff in the Tracy Lounge...
Move and You're Dead
Edit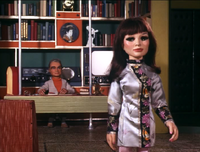 Tin-Tin accompanies Alan (and his new Brains-designed race car) to Parola Sands Raceway, aboard Thunderbird 2...
Martian Invasion
Edit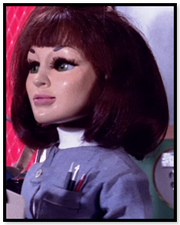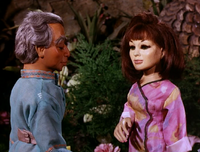 Tin-Tin's in Thunderbird 1's hanger bay, carrying out maintenance checks in the rocket plane's pilot's cabin...when an unexpected visitor comes to call...
Brink of Disaster
Edit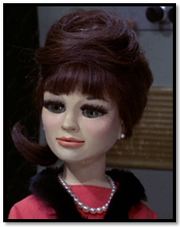 Tin-Tin travels with Jeff and Brains on a monorail that nearly ends in disaster.
The Perils of Penelope
Edit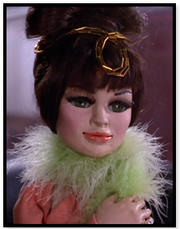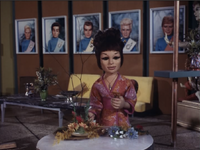 With a timely assist from Parker, Tin-Tin (in full evening-dress) appears at a Parisian restaurant to surprise Alan, who's dining with Lady Penelope and Sir Jeremy Hodge. Et voila!
Terror In New York City
Edit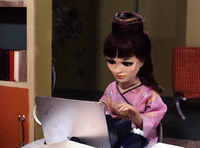 Tin-Tin watched in horror as Virgil landed the stricken Thunderbird 2.
The End of the Road
Edit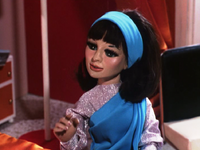 Tin-Tin's relationship with Alan is upended with the surprise visit of Eddie Houseman - her old flame - to Tracy Island...
Day of Disaster
Edit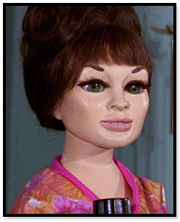 Tin-Tin is seen entering the lounge with a bottle of transmitter dissolver, after Jeff has swallowed the transmitter, that was in Granma's apple pie, that she had acentdently dropped it in.
Edge of Impact
Edit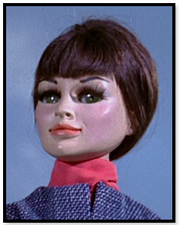 Desperate Intruder
Edit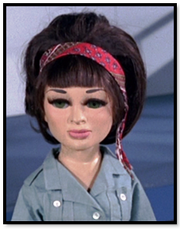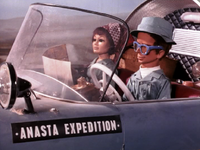 30 Minutes After NoonEdit
Tin-Tin listens to the news broadcast, detailing the fire at the Hudson building, and reports back to Scott in Thunderbird 1.
The ImpostersEdit
The Man from MI.5Edit
Danger At Ocean DeepEdit
Tin-Tin helps Brains, in the laboratory, with his experiment to find the cause of the interference, to their radio transmissions.
The Duchess AssignmentEdit
Attack of the Alligators!Edit
Having just returned home to Tracy Island from a shopping trip to the mainland, Tin-Tin's missed out on the boys' latest rescue. However, she's eager to show Alan the gift she got for his upcoming birthday - and it's in the bathroom! (The bathroom?) And it's just what he's always wanted, too: a baby alligator!
The Cham-ChamEdit
Security HazardEdit
Tin-Tin was not seen in the epis
Atlantic InfernoEdit
Path of DestructionEdit
Alias Mr HackenbackerEdit