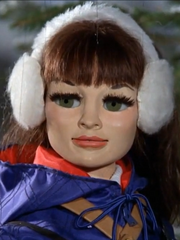 A collection of images showing the outfits worn by Tin-Tin Kyrano.
Casual Wear
Edit
White Polo Neck Jumper
Edit
Purple Top With Mottled Pattern
Edit
Brown Top With Flower Pattern
Edit
Tin-Tin also wore this top in Ricochet.
Protective Clothing (Cooking)
Edit
Scuba Diving Outfits
Edit
Desert Outfits
Edit
Orange Fur lined Jacket
Edit
Mexican Poncho
Edit
Oriental Style (1)
Edit
Oriental Style (2)
Edit
Evening Dress Wear
Edit
Red Dress and beads
Edit
Red Dress and Fur
Edit
Blue Dress
Edit
Ad blocker interference detected!
Wikia is a free-to-use site that makes money from advertising. We have a modified experience for viewers using ad blockers

Wikia is not accessible if you've made further modifications. Remove the custom ad blocker rule(s) and the page will load as expected.