Thunderbirds To The Rescue
Writer(s)
Distributor

ITC Entertainment,
Channel 5

Released

1980, 1986

Runtime

95 Mins
To The Rescue (aka Thunderbirds To The Rescue) was a compilation film originally released by ITC Entertainment in 1980. It was the first in a series of three films comprised of two episodes each, spliced together into a single feature.
NOTE: The film is a compilation of the season 1 episodes Trapped in the Sky and Operation Crash-Dive. For an in-depth synopsis, please read their respective articles.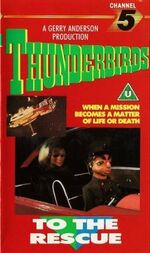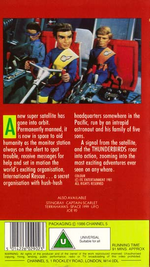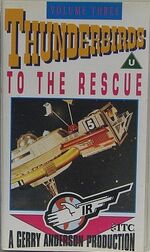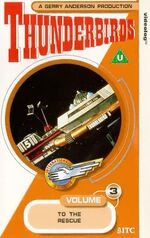 Opening Credits:
Edit
Closing Credits:
Edit
Produced By: Gerry Anderson
Directed By: Alan Pattillo, Desmond Saunders
Associate Producer: Reg Hill
Characters Created By: Sylvia Anderson
Written By Gerry Anderson, Sylvia Anderson, Martin Crump
Music Composed And Directed By: Barry Gray
Supervising Special Effects Director: Derek Meddings
Director Of Photography: John Read
Puppet Operators: Yvonne Hunter, Judith Shutt, Ernest Shutt, Wanda Webb
Puppetry Supervision: Mary Turner, Christine Glanville
Character Voices: Sylvia Anderson, Ray Barrett, Peter Dyneley, Christine Finn, David Graham, David Holliday, Shane Rimmer, Matt Zimmerman
Sculptors: John F. Brown, John Blundall
Costumes: Elizabeth Coleman
Puppet Properties: Eddie Hunter
Supervising Editor: Len Walter
Editors: Harry Ledger, David Lane
Lighting Cameramen: Julien Lugrin, Paddy Seale
Special Effects Lighting Cameraman: Michael Wilson
Camera Operators: Jimmy Elliott, Geoff Meldrum, Alan Perry
Art Director: Bob Bell
Assistant Art Director: Grenville Nott
Supervising Sound Editor: John Peverill
Sound Editors: Tony Lenny, Brian Hickin

Special Effects 2nd Unit:

Director: Brian Johnson
Lighting Cameramen: Harry Oakes, Michael Wilson
Camera Operator: Garry Coxall
Property Master: Arthur Cripps
Sound: Maurice Askew, John Taylor
Original Format By: Gerry Anderson, Sylvia Anderson
Creative Production Coordinator: Robert Mandell
Creative Consultant: David Hirsch
Post Production: Image Factory, Inc.
FILMED IN SUPERMARIONATION Made At Century 21 Studios, Slough, England.
Copyright 1980, ITC ENTERTAINMENT, INC. All Rights Reserved
Deleted Scenes
Edit
Trapped in the Sky
Edit
The entire sequence involving the target practice with the TX-204
Jeff telling Scott aboard Thunderbird 1 about the upcoming rescue attempt by Bob Meddings
Operation Crash-Dive
Edit
All the scenes with the Irish farm in it
The second television newsflash, and Scott showing up at the Tracy Villa with his basket of farm produce
Lieutenant Burroughs asking where the letter was posted, and Alan discussing the upcoming operation with Jeff
The Fireflash taxiing out to the runway, and the security arrangements at London Airport
Hanson's attempt to contact London Airport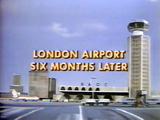 Transition Between Episodes: Trapped in the Sky concluded on Jeff's "I think we're in business!" line, suddenly jumping back to the Airport, where "London Airport Six Months Later" is displayed on screen.
Additional music by Barry Gray is added to nearly every scene. The majority of that music is taken from "Operation Crash-Dive", while others are taken from the UFO episodes "Identified" and "Reflections in the Water" (which in turn used music cues from Stingray and Joe 90).
Ad blocker interference detected!
Wikia is a free-to-use site that makes money from advertising. We have a modified experience for viewers using ad blockers

Wikia is not accessible if you've made further modifications. Remove the custom ad blocker rule(s) and the page will load as expected.