"Tony Grant" is a Stub.
You can help Thunderbirds Wiki by expanding it.
Dr. Tony Grant is a character from the movie Thunderbirds Are Go. He is one of the two scientists who travel to Mars aboard the Zero X spacecraft. He was kidnapped shortly before the second Zero X took off and replaced by The Hood, but Scott Tracy unmasked him thanks to Lady Penelope's lucky charm tracking devices.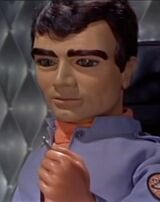 Ad blocker interference detected!
Wikia is a free-to-use site that makes money from advertising. We have a modified experience for viewers using ad blockers

Wikia is not accessible if you've made further modifications. Remove the custom ad blocker rule(s) and the page will load as expected.